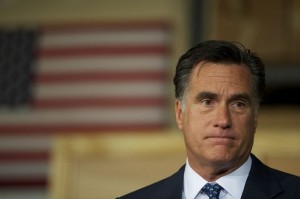 GQ unveiled its list of "The Least Influential People of 2012," commemorating "a collection of people so uninspiring that we should round them all up and stick them on an iceberg." Among the 25 selected was one man who was a pretty dominant force in the news cycle this year: Mitt Romney.
While Romney is listed in the top spot, the magazine noted that "these folks are ranked in no particular order, because all zeros are created equal." Comforting. Others gracing the list include Amanda Bynes ("spent all of 2012 avoiding acting gigs and trying desperately to run over your dog"), Ryan Lochte ("individual-medley-of-douchiness world record was shattered this year"), and "The Remaining Scraps Of Occupy Wall Street." If it's any consolation to Romney, First Lady Michelle Obama was included, too ("You tried, Mrs. Obama…Now why not join the winning team and indulge in this delicious pint of Häagen-Dazs Caramel Cone ice cream?")
"Voting for Romney is like hooking up with the last single person at the bar at 4 a.m.," GQ said. "The only successful thing he did this year was embody every black stand-up comedian's impression of a white person."
It then went on to pay tribute to the aspects of Romney's campaign that won't be missed:
No more endless photos of Mitt staring winsomely off-camera with that attempted smile on his face. No more glaring campaign mishaps week after week after week. No more labored media efforts to make him look like anything other than Sheldon Adelson's pampered money Dumpster.
Though the reasoning was summed up rather succinctly in the first few sentences: "Was anyone inspired by Mitt Romney? Did anyone vote enthusiastically for Mitt Romney?"
Answer: "Of course not."
(Aw.)
Have a tip we should know? tips@mediaite.com