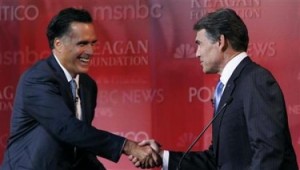 A new USA Today/Gallup poll shows plenty of reason for Mitt Romney to smile, and for Rick Perry to check his rear-view mirror. On the heels of a debate that saw Perry take a beating on Social Security, his lead in this poll has dropped from 12% in late August, to just 7% in a poll taken days after the CNN/Tea Party debate. Prior to the debate, a Zogby Poll had Perry with an 18-point lead. Coupled with the fact that Perry still loses in head-to-head polling with President Obama, while Romney wins, is Perry's campaign headed for trouble?
In a Zogby poll taken through Sept. 12, Perry led Romney by an enormous margin of 32%-14%, but in the first national poll taken since Monday's debate, Perry's lead over Romney has slipped to 31%-24%.  A key difference between these polls is that the more recent one doesn't factor in probable non-candidate Sarah Palin. Given a choice between Romney and Perry, you might think those Palin supporters would go with Tea Partier Perry, or to Michele Bachmann, who is barely polling above the margin of error now. Romney's gains seem to show that Republican primary voters are beginning to face reality.
Perry's challenge has never been with his appeal to Republican primary voters, but Romney's gains, coupled with their respective performance in head-to-head polls with President Obama, illustrate concerns about Perry's electability, and just how high a premium GOP voters place on beating Obama. According to the USA Today/Gallup poll, "53% of Republican voters say they would prefer the nominee with the best chance of beating Obama; 43% say they want the candidate who agrees with them on almost all issues."
The deeper we get into this campaign, and the more President Obama's campaign team revs up, the more you will see those numbers move. Ideological purity is nice, but when you're taking on a $1 billion mothership, you need more than Randy Quaid in a crop-duster.
Have a tip we should know? tips@mediaite.com