Mitt Romney Praises Fox News, Wolf Blitzer In Candid Talk On Media Coverage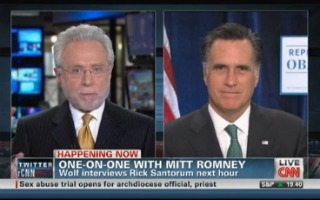 In a candid discussion of his media coverage over the course of the Republican primary process over the weekend, Former Massachusetts Gov. Mitt Romney heaped praise on Fox News Channel for their coverage of his campaign and singled out CNN's Wolf Blitzer who he described as a good interviewer.

RELATED: Newt Gingrich Explodes: Fox News In The Tank For Romney, CNN Less Biased (Update)
ON Sunday, Mitt Romney spoke at a private fundraising at Palm Beach, Florida, where according to a report in The Wall Street Journal, the likely GOP presidential nominee spoke with rare candor about his treatment on cable news.
The candidate said he didn't expect a fair fight in the media, saying he believed many commentators on television were liberals. He also said CNN reporter and host Wolf Blitzer was a good interviewer, and said Fox News had been good to him. Fox News is owned by News Corp., which also owns The Wall Street Journal.
Romney had received some criticism from Fox News last fall when he failed to appear on the network or on any of the Sunday programs for several weeks. He appears poised to abandon Fox News Channel once again, however, having said that his electoral strategy requires that he reach out to a more ideologically diverse audience than that of Fox.
"Fox is watched by the true believers," Mr. Romney said. "We need to get the independents and the women." The likely Republican presidential nominee said that "earned media" would be central to his campaign, and his staff would also invest in online communications and Twitter.
Romney's admission that Fox News "had been good to him" comports with the bitter criticism levied by former House Speaker Newt Gingrich about the news network.
"I think Fox has been for Romney all the way through," accused Gingrich. "In our experience, Callista and I both believe CNN is less biased than Fox this year. We are more likely to get neutral coverage out of CNN than we are of Fox, and we're more likely to get distortion out of Fox. That's just a fact."

"I assume it's because Murdoch at some point [who] said, 'I want Romney,' and so 'fair and balanced' became 'Romney,' " Gingrich surmised. "And there's no question that Fox had a lot to do with stopping my campaign because such a high percentage of our base watches Fox."
Have a tip we should know? tips@mediaite.com