Mom Confronts Troy Mayor About Homophobic Comment: It's About 'Choosing Love Over Everything'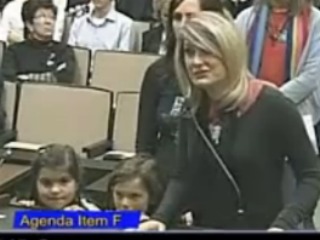 A lesbian mom named Amy took some time during a Troy, Michigan council meeting to introduce Mayor Janice Daniels to her family. Daniels, you may recall, recently found herself at the center of a protest calling for her resignation over a Facebook update stating that "I think I am going to throw away my I Love New York carrying bag now that queers can get married there."
Amy, joined by her wife and their two daughters, offered her perspective on the controversy surrounding Mayor Daniels:
RELATED: After Homophobic Facebook Post, Locals Call For Troy Mayor Janice Daniels To Resign
I always like to think of challenges likes this as opportunities to grow. I know you probably regretted the second that came out: "Oh my God. What did I just do? I'm a public figure; I have a lot of responsibility to the people that I serve." And… But I also think it's a wonderful opportunity for you to turn this around, and to look at the faces of…and, remember, this is why we allowed them to stay up so late past their bedtime, to come up and let you see them and say they go to school with kids that have two moms and two dads. They go to school, majority of their friends have a mom and a dad. And we talk every day about different families and different types of people, and teaching respect and kindness. And that is the heart that beats in our home. It's about being kind, about choosing love over everything.

And when I told them about your comments when they wanted to know why we were coming today, they wanted to do something for you, and that was draw you a picture. And so I have two tiny pictures for you. One just says "Love," from my daughter Logan, because she wants you to remember that, in the end, love is all that matters. No matter what you're doing in your life, if you can look at it through the lens of love, you will do the right thing. The second one is two little girls in a house — I'd like to know where your mothers are in this picture! — and it says "love" and it says "only answer."

And I hope that you take these as gifts from Logan and Aiden as a reminder that mistakes happen, you can always turn them around.
Amy then told Daniels that she would love to see her attend the next pride parade in Michigan.
The story calls to mind the recent interaction between Senator Michele Bachmann and a young boy, Elijah, who is also the child of an LGBT couple. One criticism/observation that sprung forth from that confrontation — perhaps most notably from Fox News' Bill O'Reilly — was that it might have been more effective had Elijah's parents elected to speak for themselves. Maybe it would have gone a little something like this.
RELATED: Bill O'Reilly And Gay Activist Clash On 8-Year-Old's Confrontation With Bachmann
Have a look at Amy's speech — and her daughters' "tiny pictures" — below:
h/t BuzzFeed
Have a tip we should know? tips@mediaite.com