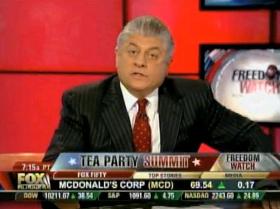 Fans of libertarian-focused Fox Business Network show Freedom Watch and host Judge Andrew Napolitano will be glad to see the weekend show get a weekday run next week, at 9pmET.
"Freedom Week" let's Napolitano expand his program, and expand his reach, to the FBN audience – and also could serve as a try-out for a regular spot in the line-up.
The FoxBusiness.com has a full breakdown of each show, and says:
From our privacy to our property, Judge Napolitano explores whether 'We the People' are getting the freedom we deserve. Catch The Judge as he takes on some of the most hotly-debated issues facing Americans today and seeks to make sure your rights aren't being wronged.
Freedom Watch gets a first run Saturday's at 10amET, and is repeated throughout the weekend on the young business network. While it is not the #1 show on the network – it does have a hefty audience compared to the rest of the channel, and a chance to get a regular, every day run could help boost it even further. The 9pmET slot puts it right after another new, up-and-coming show on FBN – Money Rocks hosted by Eric Bolling. Bolling tweeted yesterday: "Great news! Freedom Watch w/ @judge nap airs at 9p fbn next week. I would be thrilled if he'd make that permanent! Tell him, will ya?"
Also this weekend's show, featuring Karl Rove, gets a Fox News replay tonight at 9pmET (via Johnny Dollar).
For a show that got its start as an hour on FoxNews.com's "Strategy Room," it has developed a grassroots following online, cultivated by companion, independent sites like FreedomWatchOnFox.com. This run is the next step. It shows the growing interest in the country in libertarian issues – or, at least, a different, unique voice in the sea of right and left.
—–
» Follow Steve Krakauer on Twitter
Have a tip we should know? tips@mediaite.com