Morning Faux: Joe Scarborough Falsely Claims DNC 'Ridiculed' Bernie for Being 'a Jew'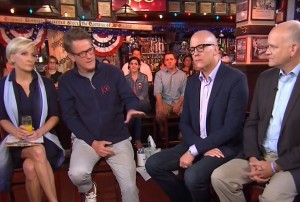 Even with the resignation of outgoing Democratic National Committee Chair Debbie Wasserman Schultz, the mainstream media continues to exaggerate and oversell the contents of leaked DNC emails that were posted online this weekend. On Monday morning's Morning Joe, host Joe Scarborough pushed past embellishment into falsehood. In discussing the leaked DNC emails, Scarborough claimed that DNC officials planned to "ridicule" Bernie Sanders for being "a Jew," and "not even a practicing Jew, who may be an atheist":
The emails to which Scarborough refers, which mostly date from April and May of this year, purport to show favoritism toward Hillary Clinton, but what they actually show is DNC staffers responding, for better or for worse, to attacks on their organization by Bernie Sanders.
The worst of these is a chain in which DNC CFO Brad Marshall suggests getting "someone" to question Bernie Sanders over his religious beliefs. The email doesn't name Sanders, but it's fairly obvious, despite Marshall's quasi-denial:
It might may no difference, but for KY and WVA can we get someone to ask his belief. Does he believe in a God. He had skated on saying he has a Jewish heritage. I think I read he is an atheist. This could make several points difference with my peeps. My Southern Baptist peeps would draw a big difference between a Jew and an atheist.
This is plainly disgusting on a number of levels, but it clearly is not about "ridiculing" Sanders, and to the extent his Jewish background is discussed, it is discussed as a positive, not a negative. Other outlets have promoted this general premise more ambiguously by saying that the plan was to attack Sanders "over his religion," which is merely misleading, but Scarborough explicitly says they wanted to "ridicule" him for being "a Jew." That's just a lie.
Have a tip we should know? tips@mediaite.com