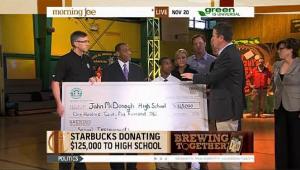 Morning Joe was all about volunteerism and New Orleans today.
But it really wasn't. It was about Starbucks, their integrated brand sponsor that is finding new and unique scenarios to work its way into actual news content on the show. It's something NBC does best (or worst, depending on your point of view).
The Morning Joe team was live from John Mcdonogh High School in New Orleans today as part of Starbucks "Brewing Together" Day of Service. Starbucks made a hefty donation to the high school, others donated time and money as well, and volunteerism was put on the forefront of many discussions during the three-hour show. The focus and the donations shouldn't be diminished by any means – it was an important show on an often ignored subject that really could use the spotlight again. Real, productive work was accomplished today, because of MSNBC and Morning Joe.
And, of course, Starbucks. You see, Morning Joe isn't just "sponsored by" Starbucks, they're "brewed by" Starbucks. Which means lots of Starbucks references on air, Morning Joe's very own coffee flavor, aesthetic integration and of course, frequent consumption. If you look at the Morning Joe website, you'll see the smiling faces of Joe Scarborough, Mika Brzezinski and Willie Geist…right next to a piping hot mug of Starbucks coffee.
Look – we get it, to some degree. Everyone needs to make money in this ever-changing, and seemingly ever-declining, media climate. Morning Joe like many cable news networks not named Fox, have seen ratings declines this year.
And so as not to appear in a glass house, we should note we aren't above sponsored content here at Mediaite. In fact, if you'd like to sponsor some, please contact Nick Marmet at [email protected]
But today was an infomercial for Starbucks, mixed in with some news and volunteerism discussion, a dash of guests from N'awlins, a sprinkling of jokes – stir, taste, chug.
But Morning Joe is really just one example of the lengths NBCU goes when it comes to corporate integration. In May, the company announced an "unprecedented commitment to health and wellness." That's seen on many platforms, including Dr. Nancy Snyderman's MSNBC show. And it also means Green Week. That's happening now, and showed up completely blatantly last night in NBC's prime time comedy shows. James Poniewozik of Time magazine broke down all the shows, with Community and 30 Rock incorporating Green week directly into the plot of their shows.
The initiative will inevitably draw comparisons to Obama administration goals too – GE CEO Jeffrey Immelt's involvement in the administration only aids those who make the leap. While the goals of NBCU are admirable, the questions it raises as the boundaries between editorial and corporate influences become more murky will continue.
Here's a clip from Morning Joe, and on the next page watch the full episodes of Community and 30 Rock from last night:
>>> NEXT PAGE: Watch the NBC Thursday night comedy/Green Week shows.
Have a tip we should know? [email protected]