'Most Presidents Get Reelected': Jeffrey Toobin Thinks a Trump Second Term is 'Very Possible'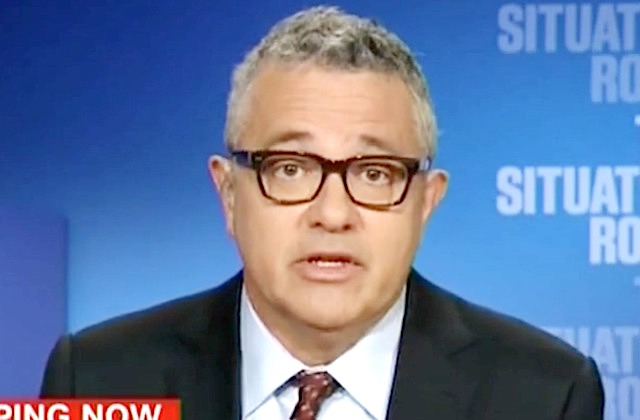 One of the most prominent voices on CNN thinks a second term is a distinct possibility for President Donald Trump.
In an interview with The Ringer, CNN legal analyst and New Yorker staff writer Jeffrey Toobin admitted he hasn't a clue about the future of Trump's presidency. ("I have no idea," Toobin told the sports and pop culture website. "I have literally no idea.") But he seemed to suggest that those hoping for a quick end might want to brace themselves for not just four years of Trump, but perhaps eight.
There are people who will tell you that this presidency cannot go more than six months: He's too extreme, he's too crazy, he's too corrupt, and it's just going to all fall apart. There are other people who will say, and I tend to put myself in this camp, that you know, most presidents get reelected, and it's very possible he'll be president for eight years.
In the interview, Toobin also talked about what it's been like covering the first 100 days of the Trump administration.
"I have felt almost literally a sense of vertigo in terms of covering him — the way he expresses himself, the incredibly chaotic and unfamiliar way he acts, the way he attacks people," Toobin said. "I think regardless of party, we had, or at least I had, a concept of how presidents behave, and that's completely out the window."
Read the full interview here, via The Ringer.
[image via screengrab]
——
Follow Joe DePaolo (@joe_depaolo) on Twitter
Have a tip we should know? tips@mediaite.com
Joe DePaolo - Senior Editor