MSNBC Plan B: During Big Breaking Events, Williams, NBC News Should Take Over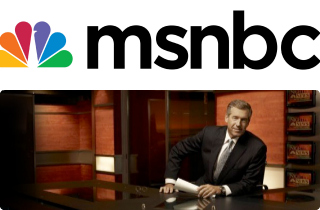 The Nielsen numbers are now in for Monday's coverage of the terrorist bombings in Boston, and the results are not surprising.
Per The Hollywood Reporter:
Viewership peaked during primetime, with Fox News Channel (3.9 million), CNN (2.75 million) and MSNBC (1.25 million) pulling in a cumulative average of 7.9 million viewers between 8 and 11 p.m. In the targeted adults 25-to-54 demographic, numbers also were up tremendously for a Monday, with CNN notching 1.32 million, followed by FNC (1.2 million) and MSNBC (461,000).
For two of these networks, the numbers help confirm a recent a Pew Research study: FOX and CNN provide their audiences with a relatively even mix of opinion (FOX, 55 percent opinion, CNN 46 percent) and straight news (FOX, 45 percent straight news, CNN 54 percent).
In the same study, MSNBC was shown to dedicate just 15 percent of its content to straight news, with the remaining 85 percent to opinion. The model works well particularly during midterm and Presidential election years, as the Lean Forward network jumped from third to second place in overtaking CNN last year.
So when ratings were released around Monday's Boston coverage, it's not a shock that MSNBC performed as poorly as it did (a very distant third). The network simply is not built for situations like this, especially considering that its entire primetime lineup isn't comprised of former anchors-turned-hosts, but guests-turned hosts, which 90 percent of the time usually isn't an issue.
Simply put, anchoring is one of the toughest white-collar jobs in the world. The good from the not-so-good are sniffed out by an audience quite quickly. In the cable news world, where great anchors are at a premium due to an overall shift to opinion journalism, there's Shep Smith (FOX), Anderson Cooper (CNN), and everyone else.
And Monday's numbers reflect that. In Cooper's case—who has struggled on slow news nights—his ratings improved nearly 900 percent in the key 25-54 demo from his Friday night show to Monday night (155,000 vs. 1.393 million). In Smith's case, he finished just a hair behind CNN in the demo but won the overall audience category handily at 5:00 PM with nearly four million viewers, or nearly four times the audience of Chris Matthews at the same hour.
So NBC can do two things:
(1) Simply concede breaking news to CNN and FOX.
(2) Pass the rock to another studio at 30 Rock
Option #2, of course, would mean to preempt its MSNBC programming in favor of NBC News and Brian Williams, who has been NBC's face for news since 2004. His competitors—both steady and solid in the form of Diane Sawyer (ABC) and Scott Pelley (CBS)—are still relatively new to the big chair. Williams—a versatile, smooth, unflappable anchor who has proven he can deftly handle the kind of horrifying chaos we saw out of Boston on Monday—should be what MSNBC viewers are provided in situations like this.
Instead, viewers got the aforementioned Matthews–who eats, sleeps and breathes politics 24/7—speculating the attacks may have been devised out of the American right-wing due to it being Tax Day… or maybe Boston's JFK library was bombed by an anti-Democratic person or group who didn't like the Kennedys and wanted to send a message… 50 years after JFK was assassinated (the JFK library bomb was widely-reported on all networks but later proved false). Folks at home couldn't change the channel fast enough.
Monday night, NBC was smart enough to preempt CNBC financial news programming with its Williams-led, NBC News-led coverage of the Boston bombings.
Smart move.
Now the only question is, the next time big breaking news occurs… are the powers that be at Rockefeller Center brave enough to do the same to MSNBC?
— —
>> Follow Joe Concha (@ConchSports) on Twitter
Have a tip we should know? tips@mediaite.com