Must Reads: New Obamacare Delay on the Way, as U.S. Readies Aid Proposal for Ukraine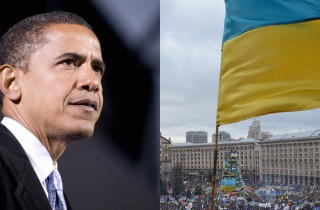 Every a.m., Mediaite publishes a primer of what the interweb machine is writing, talking, tweeting, and blogging about, so that you may fool friends and family into thinking you are a trove of information and insight. Today: another delay in Obamacare implementation, the U.S. proposes aid to Ukraine, the market thinks the crisis is already over, and more.

"New ObamaCare Delay to Help Democrats in Midterm Elections" (Elise Viebeck, The Hill)
"As early as this week, according to two sources, the White House will announce a new directive allowing insurers to continue offering health plans that do not meet ObamaCare's minimum coverage requirements. Prolonging the 'keep your plan' fix will avoid another wave of health policy cancellations otherwise expected this fall. The cancellations would have created a firestorm for Democratic candidates in the last, crucial weeks before Election Day."
"Obama Administration Unveils $1-billion Loan Package for Ukraine" (Kathleen Hennessey, Los Angeles Times)
No matter your opinion on Vladimir Putin's excursion into the Crimean peninsula, one thing everyone can agree on is the need to prop up Ukraine's transition government, at least long enough to get it to its May 25 election to replace ousted President Viktor Yanukovych. Treasury Secretary Jack Lew said the U.S.'s proposed $1 billion aid package will be part of a larger international effort toward that goal.
The aid is especially needed as Ukraine has been brink of fiscal dissolution for months (it is actually the original catalyst for the crisis there) but faces the need to divert much-needed funds to its military in order to fend off Russian forces.
"Russian Stocks, Ruble Rebound on Hopes of Easing Tension in Ukraine" (Zlata Garasyuta, Reuters)
Meanwhile, the market is so over Ukraine: "Russian shares picked up on Tuesday as investors held out hope for an easing of the crisis in Ukraine after Moscow ordered troops on exercise in western Russia back to base… 'People are bored of expecting a bad scenario in Ukraine and have started to believe that there will be no military scenario and a confrontation of the Ukrainian army with Russia won't happen,' said Oleg Dushin, senior analyst at Zerich Capital Management."
Back to work, everyone.
"John Podesta: The Man Behind President Obama's New Environmental Push" (Juliet Eilperin, Washington Post)
Obama's big-name recruit of the new year is already making his presence felt: "The Democratic strategist's role at the White House, which includes steering climate and public lands policies, provides the clearest indication yet that President Obama and his top aides are increasingly focused on cementing a presidential legacy on the environment during his remaining time in office. That focus will be on full display Tuesday in the administration's budget proposal, which will ask for $1 billion to cope with global warming's impacts, shift how the government pays for wildfires and include new proposals aimed at tackling climate change."
[Image via spirit of america / Shutterstock.com / Oleg_Mit / Shutterstock.com]
——
>> Follow Evan McMurry (@evanmcmurry) on Twitter
Have a tip we should know? tips@mediaite.com