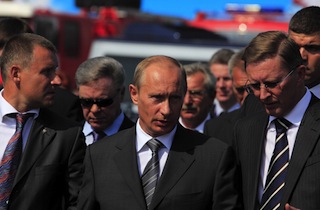 Every a.m., Mediaite publishes a primer of what the interweb machine is writing, talking, tweeting, and blogging about, so that you may fool friends and family into thinking you are a trove of information and insight. Today: U.S. intelligence had its ear to the ground on this whole Russia thing, just not the ground anywhere near where Russian tanks were moving into Crimea; the GOP/tea party divide evolves; and more.

"U.S. Scurries to Shore Up Spying on Russia" (Adam Entous, Julian Barnes and Siobhan Gorman, Wall Street Journal)
So despite the surveillance capabilities we've spent the past ten or so months "debating," U.S. intelligence agencies failed to foresee Russia's method of capturing Crimea, and is now rushing to play catch-up.
Months before the takeover, U.S. spy agencies told White House policy makers that Mr. Putin could make a play for Crimea, home to strategically important Russian naval installations. That led to an unsuccessful diplomatic push by the Obama administration.

When the moment arrived, U.S. attention was focused on the troops on Russian soil. Instead, forces already inside Crimea were spearheading the takeover of the peninsula, before U.S. spy agencies fully realized what was happening.
Howevs:
Some Obama administration, military and intelligence officials say they doubt the U.S. could have done much differently. Even with a clearer understanding of Mr. Putin's plans, the Obama administration thought it had few options to stop him. U.S. spy chiefs told President Barack Obama three days before the Crimea operation that Russia could take over the peninsula so fast that Washington might find out only when it was done.
"Confronting Putin's Russia" (Michael McFaul, New York Times)
An excellent piece from Michael McFaul, until recently the U.S. ambassador to Russia and a careful watcher of events there. McFaul fleshes out the obnoxious "Cold War 2: Spring Break Stalingrad" talking point, arguing that the end of the post-Cold War period does not automatically mark a return to its predecessor, and that the nostalgia Putin has for either a Soviet Union or a pre-Soviet grand Russian empire is a personal one and hamstrung by Putin's isolation, even within Russia.
Oh, and this:
But there are two important differences that weaken our hand. First, the United States does not have the same moral authority as it did in the last century. As ambassador, I found it difficult to defend our commitment to sovereignty and international law when asked by Russians, "What about Iraq?"
Read the whole etc.
"Eric Cantor Attempts to Remake the House GOP Brand, and His Own" (Robert Costa, Washington Post)
Robert Costa, my pick for best reporter of 2013, captures the Cantor Dilemma, in which the heir apparent to the speakership tries to move to the center to better position himself for his eventual promotion without angering the conservative base that has gotten him this far:
Each move and gesture seems designed to nudge conservatives toward a more even-tempered message, but Cantor resists challenging his party's ideology or platform, knowing he can only go so far and remain the presumptive favorite among House Republicans for the speaker's gavel, should Boehner, 64, decide to retire in the coming years.
"Nebraskans' Dilemma: Which Conservative to Vote For?" (David Drucker, Washington Examiner)
Speaking of intra-party hangups, David Drucker finds an interesting showdown happening the race for the GOP nominee in Nebraska's Senate race. Both candidates are conservative, yet tea party groups are aligning behind the more "establishment" (read: DC-ish zip code) candidate. The two are ideologically close, leading Drucker to hypothesize that tea party groups are attracted to the more hardline (read: Cruz-esque) of the two, regardless of his tea party bona fides:
Some Republicans argue that the conservative Establishment has made a deliberate endorsement in the race, one that explains much of the insurgent-Establishment divide that is roiling the GOP in a handful of 2014 Senate primaries. The national Tea Party groups aren't concerned that Osborn will vote the wrong way in the Senate. Rather, they were attracted to the depth of Sasse's ideological commitment to conservative principles and a political temperament that reflects their movement.

"Would you say there's a difference between [Texas GOP Sen.] Ted Cruz and Mike Johanns?" one GOP operative asked. "In terms of tactics and urgency, they approach being a senator very differently. It's not that they disagree on ideology but they have a different view of the world and how much trouble the country is in."
[Image via Degtyaryov Andrey / Shutterstock.com]
——
>> Follow Evan McMurry (@evanmcmurry) on Twitter
Have a tip we should know? [email protected]