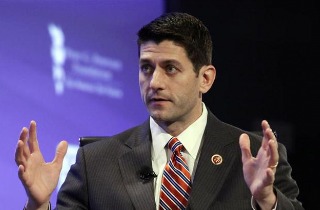 Every a.m., Mediaite publishes a primer of what the interweb machine is writing, talking, tweeting, and blogging about, so that you may fool friends and family into thinking you are a trove of information and insight. Today: the Obamacare enrollees "hiding in plain sight." Plus: it's Paul Ryan Budget Season again, as the future Chair of House Ways & Means Committee publishes his newest spending-slashing blueprint for GOP candidates to contend with.


"Newly Enrolled, but Not Counted by Insurance Exchanges" (Katie Thomas, New York Times)
The New York Times does a deep dive on a significant factor in the Affordable Care Act that has been neglected up until now: those signing up outside of the exchanges. The hyper-politicized coverage on Obamacare has focused almost entirely on those enrolling through state and federal exchanges (7.1 million, as of April 1), but little attention has been paid to those who enrolled directly with insurance companies, who are put into the same risk pool as everyone else. There's no firm number on how many did so, but it could be over 2 million:
Although little is officially known about the people who are signing up outside the marketplaces, health care experts said that the customers were likely to be wealthier, because those who qualify for tax-credit subsidies must use the exchanges. Many may also have been people whose plans were terminated at the end of last year and who signed up for new plans through their existing insurer. People who are in grandfathered plans, or who were permitted to extend noncompliant plans for an additional year, do not enter the same risk pool as those buying newly compliant plans.
"It makes little difference to insurers how the new customers arrive at their door," the Times' Katie Thomas writes. "What matters most is that they get there."
"Paul Ryan's Budget: Even More Austerity" (Suzy Khimm, MSNBC)
Suzy Khimm has a good rundown of Ryan's new budget, which guts discretionary spending while increasing defense budgets, all in a ploy to balance the budget within the decade without stepping too hard on any political third rails. The budget likely won't see the light of day in the Senate, but as Khimm points out, the goal was never really to pass it:
But House Republicans seem determined to use his budget to reaffirm fiscal priorities in the run-up to the 2014 midterm elections. They are expected to vote as soon as next week on the plan.
RELATED: Statement by Robert Greenstein, President, on Chairman Ryan's Budget Plan

"Will Ryan Budget Doom GOP in '16?" (Ben Jacobs, Daily Beast)
Daily Beast's Ben Jacobs charts how Ryan's budgets went from Gestures of Wonkitude to party liturgy in just a few short years:
With Ryan ensconced in Congress as one of the few Republicans on Capitol Hill to be popular both with the party's establishment and its Tea Party grassroots, his budgetary proposals will become a sacred cow in the GOP primaries. The one presidential candidate to actually criticize Ryan in 2012 was former House Speaker Newt Gingrich, who called the Wisconsin congressman's proposals "right wing social engineering" in an appearance on "Meet The Press." The resulting backlash was so great that Gingrich quickly apologized and took back his statement. Three years later, it's unlikely if any credible GOP candidate would dare let himself think, let alone say, such a thing.
That's a problem for the GOP. "The details of the plan aren't very popular," Jacobs notes, "and already proved a major drag in 2012 on Mitt Romney."
[Image via Yuri Gripas / Reuters]
——
>> Follow Evan McMurry (@evanmcmurry) on Twitter
Have a tip we should know? tips@mediaite.com