Nate Silver Warns Media Against 'Dangerous' Assumption Trump Isn't Really Closing in on Hillary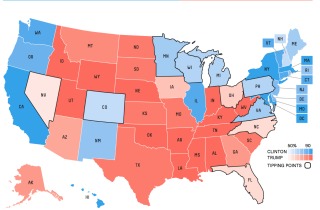 The newest polling analysis from celebrity statistics whiz Nate Silver shows Donald Trump in a tight race against Hillary Clinton as the 2016 race grows ever closer.
Previous analyses from FiveThirtyEight showed the former Secretary of State with a reasonable edge over the bombastic real estate mogul, even as recent troubles started taking their toll on Clinton's numbers. With recent shake-ups in the electoral map, current projections give Clinton a 57 percent probability of victory, while Trump's chances are pegged at 43 percent.
These results represent a 10 point swing from earlier this month, where data suggested that Clinton had maintained a larger gap between herself and Trump. Moreover, the electoral map shows the electoral vote narrowing, as Clinton takes approximately 281 of the count, while Trump gets 257.
Silver talked about the recent results on Twitter Wednesday, where he stated that certain media figures are in "so much denial" about Trump's probability of victory
Never seen otherwise-smart people in so much denial about something as they are about Trump's chances. Same mistake as primaries, Brexit. https://t.co/qBPRKoZV4R

— Nate Silver (@NateSilver538) September 21, 2016
Our forecast has it close right now, with Clinton as the narrow favorite, because that's what the polls show. It's as simple as that.

— Nate Silver (@NateSilver538) September 21, 2016
Can you invent an alternate set of assumptions wherein Clinton is a heavy favorite? Sure. But that's despite the polls, not because of them.

— Nate Silver (@NateSilver538) September 21, 2016
If your premise is "Clinton's only 1-2 points ahead right now, but she's a fairly heavy favorite despite that…", I'll hear your case out…

— Nate Silver (@NateSilver538) September 21, 2016
…but people spend a lot of time denying & cherry-picking their way around the 1-2 points part, which suggests they're not thinking clearly.

— Nate Silver (@NateSilver538) September 21, 2016
To put it another way, the burden of proof should be on people who DON'T show a competitive race, because that requires MORE assumptions.

— Nate Silver (@NateSilver538) September 21, 2016
Instead, there are a lot of *implicit* and *unexamined* assumptions that the race will shift back to Clinton. That's dangerous.

— Nate Silver (@NateSilver538) September 21, 2016
[Image via FiveThirtyEight]
— —
>> Follow Ken Meyer (@KenMeyer91) on Twitter
Have a tip we should know? tips@mediaite.com