Navy Aircraft Carrier Commander Produced Raunchy Homophobic Videos For "Movie Night"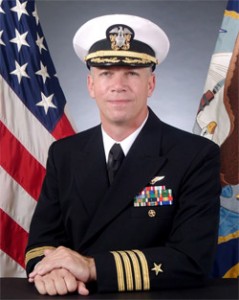 Capt. Owen Honors, the commanding officer of the USS Enterprise aircraft carrier, has a controversy on his hands – the Virginian-Pilot newspaper obtained footage from several videos he filmed while he served as the ship's executive officer. The issue: they're raunchy…and at times, the raunch included anti-gay slurs.
The timing of the video's release is especially bad for Honors in light of the recent repeal of Don't Ask, Don't Tell, which the anti-gay remarks in the videos will surely bring back into focus. In addition, their content (which, as a statement from the Navy explained, was meant to highlight "specific issues such as port visits, traffic safety, water conservation, ship cleanliness, etc." in a humorous way) will likely touch off a debate over political correctness – and indeed, in the comments below the Virginian-Pilot's story, such a debate already appears to be on.
Some officers apparently took issue with the videos, both at the time (with Honors addresses at one point in the videos, while using a homophobic slur) and today, with one saying, "When the ship pulls away from that pier, he's it. To me, that's scary." Others, however, "looked forward to them," one officer said.
Honors, though, certainly won't be looking forward to the fallout from the videos, which even if they entertained a majority of their intended audience (and contained some pretty impressive editing), are going to place him under intense scrutiny.
According to the Virginian-Pilot, Honors and Rear Adm. Larry Rice, Honors' commanding officer at the time the videos were made, have not responded to requests for comment.
NSFW-ish video of some of Honors' films below.
UPDATE (1/4): More raunchy videos starring, and produced by, Honors surfaced today. View those here.
Have a tip we should know? tips@mediaite.com