NCAA Fines Penn State $60 Million, Bans Team From Bowl Games For Four Years
NCAA Fines Penn State $60 Million, Bans Team From Bowl Games For 4 Years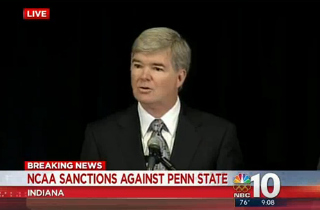 Monday morning, the NCAA announced its "corrective and punitive measures" against Penn State in the wake of the child sexual abuse scandal involving former football assistant coach Jerry Sandusky and the alleged cover-up measures taken by high-ranking officials within the football program. During a press conference in Minneapolis, NCAA President Mark Emmert and NCAA Executive Committee Chairman Ed Ray announced a $60 million fine imposed on Penn State, a four-year ban from postseason bowl games, and a vacating of all wins since 1998.
"The Penn State case has provoked in all of us deeply powerful emotions and shaken our most fundamental confidence," President Emmert said before dealing out the punishments that he said would ensure "the university establishes a daily mindset in which football is never again going to be placed ahead of educating, nurturing, and protecting young people."
Emmert then announced a $60 million fine to be placed on the university, with the funds being used to establish an endowment to help support organizations that serve the victims of child sexual abuse and seek its prevention. The $60 million figure is equivalent to the average annual revenue of the football program, the NCAA said.
Emmert also announced that Penn State's football team will be banned from postseason bowl games for four years.
The team will also have to reduce 10 initial and 20 total scholarships each year for a four-year period.
The NCAA will also vacate all wins of the Penn State football team from 1998 to 2011, with updated records reflecting these changes. The 1998 mark was chosen because this was when the first sexual abuse incident reportedly occurred. Former Penn State head coach Joe Paterno's record as the winningest coach in NCAA history will also be vacated as a result.
Penn State did, however, avoid the "death penalty," which would have effectively dismantled the football program for at least one academic year.
Watch the NCAA press conference below, via NBC:
>> Follow Andrew Kirell (@AndrewKirell) on Twitter
Have a tip we should know? tips@mediaite.com