New Biography Reveals Obama's 'New York Girlfriend' Genevieve Is A Composite [Updated]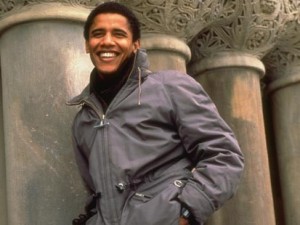 As we draw nearer to November, President Barack Obama's 1995 autobiography Dreams From My Father is facing renewed scrutiny, both regarding the President's culinary adventures as a child in Indonesia and his "New York girlfriend."
RELATED: Obama Jabs At Romney, Congress, Huffington Post And Dogs At W.H. Correspondents Dinner
But, as Vanity Fair's excerpt from Obama biographer David Maraniss' new book about the President shows, it turns out that "Genevieve," the mysterious girlfriend in question, is actually a composite, with several quirks and characteristics compressed into one woman, Genevieve Cook. After noting a few brief yet rather colorful passages from Genevieve's "secret diary," Maraniss writes the following:
Obama did not name this old girlfriend even with a pseu­donym—­she was just "a woman" or "my friend." That she remained publicly unidentified throughout his rise to national prominence became part of the intrigue of his New York period's "dark years" narrative. His physical description was imprecise but close. Genevieve is five-seven, lithe and graceful, with auburn-tinged brown hair and flecks of brown, not green, in her hazel eyes. Her voice was confident and soothing. Like many characters in the memoir, he introduced her to advance a theme, another thread of thought in his musings about race. To that end, he distorted her attitudes and some of their experiences, emphasizing his sense that they came from different worlds. Decades later, during an interview in the Oval Office, Obama acknowledged that, while Genevieve was his New York girlfriend, the description in his memoir was a "compression" of girlfriends, including one who followed Genevieve when he lived in Chicago.
And here, then, as Politico notes in its post about the biography, is President Obama's response to have used some poetic license in a work that was ostensibly non-fiction — he wanted, essentially, to re-work certain events to create, as he phrased it, a "useful theme" in his book:
That was an example of compression. I was very sensitive in my book not to write about my girlfriends, partly out of respect for them. So that was a consideration. I thought that [the anecdote involving the reaction of a white girlfriend to the angry black play] was a useful theme to make about sort of the interactions that I had in the relationships with white girlfriends. And so, that occupies, what, two paragraphs in the book? My attitude was it would be dishonest for me not to touch on that at all … so that was an example of sort of editorially how do I figure that out?
Update: Added Politico….
"In the reissue of Dreams from My Father," Obama writes in the introduction that "some of the characters that appear are composites of people I've known."
Update II: Talking Points Memo is now reporting that, according to an editorial executive from the publishing house behind the President's autobiography, the fact that "Genevieve" is a composite had been disclosed from the start:
"It is unfathomable to me how Dylan Byers of Politico could have overlooked the very plain disclaimer that the book carried from the very start," Philip Turner said to TPM via email. Turner was an editorial executive with Kodansha America, which published the paperback version of Dreams from My Father in 1996.

"The reference to 'compression' appears on page ix of the Introduction of the book I published then, which I have on my desk as I write this message," Turner says. "What's more, the 1996 paperback was an exact reprint with no changes of the hardcover edition that had been published a year earlier…."
Politico had since added the following correction to their original post:
CORRECTION: An earlier version of this blog post stated that Obama had acknowledged using composite characters in the reissue. In fact, Obama acknowledged the use of composite characters in the first edition of the book.
h/t Vanity Fair via Politico
Have a tip we should know? tips@mediaite.com