New Hampshire Restaurant Bans GOP Candidates: 'No Politicians, No Exceptions'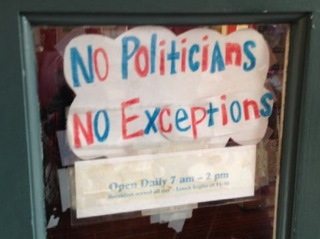 For many small businesses, having a large political event in their area is a good sign– it brings tourists and attention and business to the community. For others, it's a nuisance, particularly when politicians are involved. That's what Colby's Breakfast & Lunch in Portsmouth, New Hampshire decided of the week-long political circus heading their way and, in preparation for the storm, put up a simple and non-negotiable sign: "No politicians, no exceptions."
According to local network WMUR 9 New Hampshire, the restaurant decided to ban politicians because their customers were simply trying to have a quiet meal, not have a Republican candidate try to convince them that they are the superior choice in the primary. WMUR notes that Rick Perry and Rep. Michele Bachmann had brought their entourages along but, in a somewhat bizarre turn of events, it was the lesser-known candidate Buddy Roemer whose visit was the last straw.
Employee Jessica Labrie told the Portsmouth Herald she made the sign after several customers complained that the visits were an interruption.

Labrie said several GOP presidential candidates, including Texas Gov. Rick Perry, former candidate Michele Bachmann and former Louisiana Gov. Buddy Roemer have visited the business since the summer, and each time their presence was an interruption.

She said the most recent candidate visit came Monday from Roemer. She said it disrupted conversations among people eating breakfast.
The owner of Colby's, Jeremy Colby, said that politicians had been coming and going since the summer and the restaurant was simply too small to allow them in. With such a small state in such an unpredictable and hotly contested race, one wonders whether Colby's will be the first of many restaurants to refuse to partake in a tradition of so many decades in the First in the Nation state.
[h/t Alan Colmes]
Have a tip we should know? tips@mediaite.com