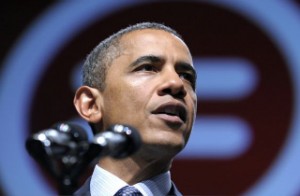 A new report on U.S. immigration policy finds that if deportation continues at its current rate over the next year, President Obama's administration will have deported over 2 million people by 2014. California professor Tanya Golash-Boza posted the study online last week, saying that while the "most marked changes" in policy came months before Obama was sworn in, he has by and large continued the crackdown on criminal deportations for the past four years.
RELATED: Pres. Obama Defends Deportation Record: 'I'm Not A King'
The report highlights the fact that the 2 million number, which spans just the tenure of Obama's administration, was around the same number of people who were deported from the United States in an over-100-year period, from 1892 to 1997. 2003 was a big year for deportations, after the creation of the Department of Homeland Security. In the following ten years, deportations began to rise, peaking at 400,000 in 2012.
Here is the breakdown of deportation under the Obama administration, with particular emphasis on the change in policy.
[B]y 2014 President Obama will have deported over 2 million people… The content of policies has also changed. There have been relatively low numbers of returns as compared to removals, a reflection of a focus on interior enforcement. There has been a shift towards the deportation of convicted criminals. With these trends, unprecedented numbers of people have been separated from their families in the United States. Obama has not only deported more people than any President; he also has separated more families by focusing on interior enforcement.
The report points out that "many of these criminal deportees are deported after a minor criminal conviction," and highlights the fact that Obama-appointed Homeland Security secretary janet Napolitano "made it her mission to achieve a quota of 400,000 deportees a year," which, as noted above, was met this past year.
h/t HuffPo
—–
Follow Josh Feldman on Twitter: @feldmaniac
Have a tip we should know? tips@mediaite.com
Josh Feldman - Senior Editor