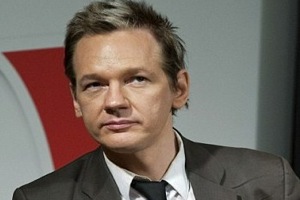 There's a certain hierarchy to the grand scheme of crimes against celebrity children. There's calling Sasha Obama a "style icon" at the ripe old age of nine. Then, a step or two higher, is making fun of Trig Palin. And then there's this: finding Daniel Assange's Facebook account (that's Julian's son) and using something he posted on his friend's Facebook wall to corroborate the molestation claims made against the Wikileaks founder earlier this week.
The New York Post seems to have done extensive social networking research to find anything the younger Assange has written that could be deemed to refer to his father, coming up with this gem. Citing various "Twitter posts"— real journalists can't call them "tweets," apparently– and a few out of context "Facebook postings" (they're actually one-liner comments on someone else's wall), the Post has concluded that the young Assange fears for any women that dare approach his father.
The first line of the article reads, "WikiLeaks founder Julian Assange's own son thinks he's a nightmare when it comes to women." It goes downhill from there. The evidence is a series of comments related to the confusing, on-again/off-again "sexual molestation" charges against Julian Assange, things like "that man does have a way of making a lot of female enemies" and "interesting to see whether this is the result of a government plot or personal grudges." The article also notes that "in a Twitter post, Daniel has called his dad 'a criminal mastermind with a political vision'" and that "he describes himself as 'estranged'" from his father. The authors note that Assange declined to comment.
This article seems to have come as a surprise to the subject of the piece, who later did comment on the article– in the "comments" section, like any other reader:
My comments were very much tongue-in-cheek and not intended as serious character assessment (nor indeed to be made public in this manner). I have a great deal of respect for my father and his work, and no doubt that the accusations against him have no basis in reality. This is another piece of sensationalistic idiocy from the NYP.

Also, here's a hint: If you want to look credible, do try to get your basic facts straight. I'm twenty, not twenty-one, and haven't been a UoM student since the end of last year.
He also described the work as "godawful sensationalistic tripe" and clarified on his blog that, as to him declining to comment: "The NYP did not interview me or otherwise attain my consent in any way for their publication." As for the extremely serious personal critiques the Post cited via Twitter where Daniel expands on his "estranged" relationship with his "criminal mastermind" father, they actually all amount to one tweet: "Father's Day spam makes me laugh. 'Consider this hair product for /your/ estranged criminal mastermind with a political vision!'" I would've picked out the punchline to be "hair product," given that, well, you know. But the Post seemed to find the last part of that far more interesting.
Part of this negligent journalism is excusable. Increasingly, American political media personalities have blurred the line between serious policy blog and frivolous social networking tool by taking extra special care of their Facebook accounts, turning them into a political soapbox more than a private procrastination tool. If the Facebook pages of the government of North Korea and George W. Bush are fair game, who is to determine what else on the site isn't? And in that sense the evolution of social media is far outpacing that of the cultural understanding and significance of these technologies, especially in bastions of print media like the Post.
Then there's the fact that, before this molestation scandal broke, there was very little inquiry into Assange the elder's private life. It was unclear who he was or where he hailed from, his background mostly based on the suspicion that he was one of the hackers named in a book using aliases nearly exclusively. That he was charged with rape– even if only for a few hours– reminded the media that he was a human being dedicated to exposing others but suffering little exposure at their hands in return.
But Julian is not Daniel, nor should healthy journalistic curiosity about the former extend to the latter when he does not invite it. There is no indication that Daniel Assange has any interest in addressing a mass audience. Unlike, say, the government of DPRK or an individual like Sarah Palin, what he produces on Facebook is clearly not meant for mass consumption. What's more, in the realm of celebrity children, this one is about as willfully anonymous as they get.
Daniel Assange has not behaved in any way that would make an invasion of privacy of this scale appropriate. He's not writing a tell-all book or giving out what would likely be fascinating one-on-one interviews; he's not dancing alongside Mike "The Situation" Sorrentino anytime soon. There is no indication that the younger Assange has tried to capitalize on his father's fame in any way, shape, or form, and a reasonable amount of evidence (on his blog and his Twitter account, both of which the Post thoroughly investigated, apparently) that he'd really rather be left out of this mess. That's not to say that reaching out for comment is inappropriate; the younger Assange is no longer a minor and, by all indication, educated enough to give answers should he choose to. In fact, it would be improper journalism not to ask for comment. But when a subject who has, through no fault of their own, attracted the spotlight shuns it away, perhaps it's best to stay on topic and respect that individual's desire for privacy.
Have a tip we should know? tips@mediaite.com