NYT Metro Desk Cancels Newspaper Subscriptions In Order To Better Pay Freelancers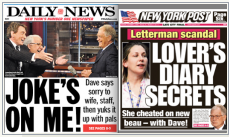 At some point the New York daily tabloids are going to become a luxury instead of a necessity. That day has apparently arrived at the New York Times Metro Desk. The Observer is reporting that the Metro Desk has been informed that as of today all magazine and newspaper subscriptions have been canceled, meaning if you want the paper you now gots to pay for it.
The extra money the paper saves will apparently going to go towards freelancers, also known as, former employees of the city's ever-shrinking media industry. As NYO's John Koblin notes, cost-cutting measures such as these have become so common that even the Times wastes little space on cushioning the blow. From the memo:
Folks,

You all know how tight budgets have become. They are getting tighter. Because of that we have decided to cut all subscriptions to newspapers and magazines that come in from the news dealer. If you wish to read any of the tabloids or out of town papers, either purchase your own or share with co-workers who purchase them to read on their way to work.

Please note, too, that any subscriptions you have regularly purchased and expensed may not be reimbursed anymore. Please check with me before you pay for anything. Most periodicals, including the tabloids and other daily newspapers, are available online through Ebsco masterfile which you can get to through the Research Dept's web page.

Sorry about this but the money we spent on these papers can be put to better use like paying freelancers. As always, thanks for your cooperation and understanding.
Have a tip we should know? tips@mediaite.com