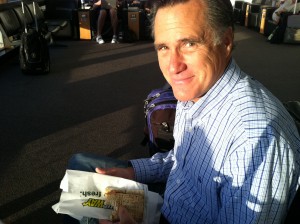 A few weeks ago, we reported that former Obama spokesman Bill Burton's Priorities USA Action released a memo charging GOP presidential contender Mitt Romney with being "phony" in a barrage of tweets that highlighted the jillionaire candidate flying commercial and eating Subway food. Right about then, the slumming tweets stopped, but three weeks later, the New York Times is reporting on them, and in a weird coincidence, Romney is promising crowds he won't be phony like those other guys.

The Times article recounts the clanging ways Romney has tried to highlight his regular-guyness, tweeting about eating fast food ("No, sir, there is no 'wrong' spork, you use the same one throughout the meal"), flying commercial (where he may or may not have mistaken the other passengers for living statues), and even replacing his monocle with a single contact lens (okay, I made that one up). The Times article does put a little bit of flesh on the bones, though. Apparently, Mitt is an authentically cheap bastard, and wants credit for it:
But to aides and friends of Mr. Romney, the situation is more complicated. They say this — the Southwest flying, self-deprecating, penny-pinching guy — is the real Mitt, the one they know in private, and if anything, he just wants a little public credit for some of the "regular dude" things he has always done.
One adviser recounted a story about how Mitt had to be cajoled into giving up a cheapo Jet Blue flight so he could meet with Sen. John McCain during the 2008 election. This puts Mitt in a sort of no-win situation with regular people, who are no more likely to appreciate a skinflint rich dude than they are a condescending one.
The article notes that voters aren't the only ones being beaten over the head with Romney's grease-fueled charm offensive:
Mr. Romney's name-dropping of Carl's Jr. has been so stark that, when a reporter called the chain's corporate headquarters to confirm the price of a jalapeño chicken sandwich, the director of public relations replied, "Ah, you must be following Romney."
Then, there's this awful detail: (emphasis mine)
But, his aides insist, he really does eat fast food — a virtual necessity of life on the campaign trail. He will always opt for the drive-through if it means he can spend more time shaking hands at an event, though he tries to make healthy choices, opting for grilled chicken sandwiches and peeling the skin off his fried chicken.
Quick, somebody get Paula Deen some smelling salts.
In a bit of oddly coincidental non-coordination, the same day the Times published its  story about Mitt's 3 week-old tweets, complete with copious pushback from Team Romney, the candidate himself invoked his authenticity while speaking with supporters:
"I think the American people recognize that we're at a point of crisis and they want to hear the truth. They can tell when people are being phony and are pandering to an audience," Mr. Romney said. "You'll see that in politics. You're not going to see it in my campaign."
Whether the Times just got to the party late, or Mitt's campaign shopped them some weeks-old pushback to help Romney's image, the effect is to give the faded Subway meme new legs. Either way, Romney's path to victory will never involve making people want to have a beer with him, but rather by making them believe that he's the only guy who can beat Barack Obama, while letting the other guy drink all the beer he wants.
Have a tip we should know? tips@mediaite.com