Newest Internet Conspiracy Theory: Hillary Was Wearing Hidden Device at Debate
After previously speculating that Hillary Clinton wore an invisible earpiece during NBC's presidential forum, supporters of Donald Trump are now claiming that she wore a secret device at the first debate.
The most commonly spread image among Trump supporters speculated that a bulge in Hillary Clinton's jacket was either some sort of secret microphone, or a "couching prevention machine." You know, a coughing prevention machine? Those exist.
I think we all know why #TrumpWon pic.twitter.com/nwZRxvkX81

— USA For Trump 2016 (@USAforTrump2016) September 27, 2016
Images show box with wire hidden beneath Crooked Hillary's clothing during #DebateNight. https://t.co/kgxTLTPpGf pic.twitter.com/WilPgeiJt3

— Makada (@_Makada_) September 27, 2016
BREAKING: Hillary Cheated on #debates, she wore a communications device pic.twitter.com/tv7HRFQ3eB

— Sandra Schneider (@sandyaschneider) September 27, 2016
The accusation went viral when it was picked up by the usual purveyors: 4chan, World Net Daily, InfoWars, etc. World Net Daily also posted an image of Clinton during the debate, claiming it "[revealed] a flesh-colored earpiece in her left ear." Mediaite isn't sure exactly what part of this fairly mundane image of a human ear is supposed to show a listening device… but here it is.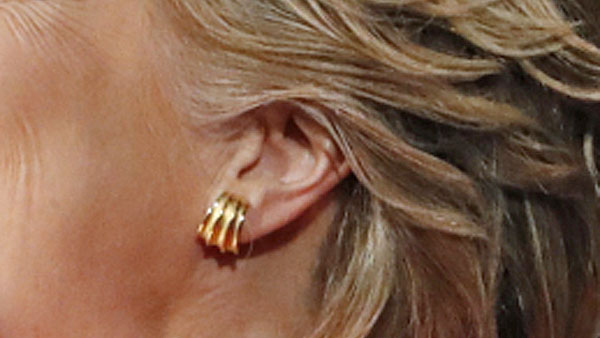 Secret listening devices have been a common accusation ever since the Internet era enabled viral spreading of "incriminating" images. Liberals claimed in 2004 that George W. Bush was receiving secret instructions from Karl Rove during his debates with John Kerry, while conservatives claimed Barack Obama wore a secret listening device during his debate with Mitt Romney.
[Image via screengrab/created by some idiot]
—
>>Follow Alex Griswold (@HashtagGriswold) on Twitter
Have a tip we should know? tips@mediaite.com