Newsweek Dragged on Twitter for Piece Connecting Iranian Censorship to… Trump Blocking People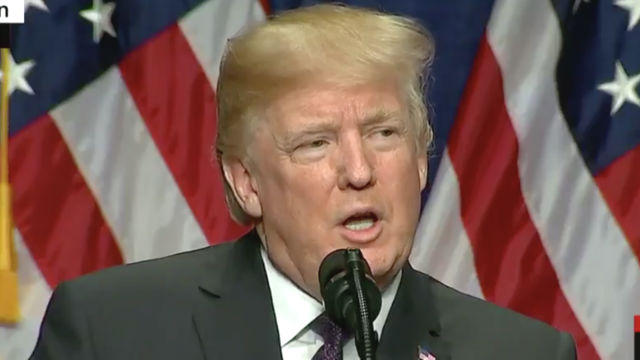 Just so we're all clear: President Trump blocking people on Twitter is not the same thing as Iranian censorship of social media services.
You might wonder why that seemingly obvious sentiment needed to be said. Well, Newsweek––which apologized yesterday for an insensitive Martin Luther King Jr. photo––tweeted this today:
Trump bars Americans on Twitter but tells Iran to unblock social media sites https://t.co/6IIlxHI4MY pic.twitter.com/kHBaBvOLfb

— Newsweek (@Newsweek) January 2, 2018
Whatever you think of the President blocking people on Twitter who say mean things, there is really no GOTCHA! equivalence on this one.
If you can't see the difference between someone blocking you on Twitter and a regime blocking whole websites and the internet, you're not a serious person. https://t.co/AOLZftoZeq

— Erick Erickson (@EWErickson) January 2, 2018
Terrible take. Blocking someone on Twitter is not comparable to mass censorship. https://t.co/iwuh1zUaKp

— Alex Griswold (@HashtagGriswold) January 2, 2018
There is a difference between a country preventing social media access and a person making it more difficult to follow their Tweets. Good grief. https://t.co/pgjcYBloTl

— Dana Loesch (@DLoesch) January 2, 2018
Apparently, if you've ever blocked someone on Twitter, you are just as bad as Iran's regime, which blocks [squints at notes] all of Twitter and Instagram for its citizens https://t.co/g5WmBivkXw

— (((Yair Rosenberg))) (@Yair_Rosenberg) January 2, 2018
2018 off to a great start with dumbass headlines like this one. https://t.co/ZuWm6orHCR

— Sonny Bunch (@SonnyBunch) January 2, 2018
ah yes these two things are exactly the same and not at all completely different https://t.co/JE4B3lKyl9

— andy levy (@andylevy) January 2, 2018
I clicked. Newsweek's "bars Americans on Twitter" is defined as the following…

—> "But some of President Donald Trump's critics were quick to point out that he has blocked dozens of people from his personal Twitter account."

Really, Newsweek? How embarrassing for you. https://t.co/pgkAZfl4Bc

— Kimberly Ross (@SouthernKeeks) January 2, 2018
It's been kind of hilarious watching this take hatch today https://t.co/IdWmRZM98R

— Seth Mandel (@SethAMandel) January 2, 2018
Seriously? Ridiculous comparison. https://t.co/ZeyTR9AkF6

— Shoshana Weissmann, Sloth Committee Chair (@senatorshoshana) January 2, 2018
Earlier today, New York Times correspondent Maggie Haberman noted the President's blocking of people on Twitter and subsequently defended invoking it in this context:
The president often blocks individual people from seeing the @realDonaldTrump Twitter feed https://t.co/cVoLLlXrGR

— Maggie Haberman (@maggieNYT) January 2, 2018
These are not akin https://t.co/idZER1HPJi

— Ben Shapiro (@benshapiro) January 2, 2018
It is always worth a look at the traditional values the office of the US presidency has promoted and how the current occupant considers them himself. https://t.co/LYeNA05CRt

— Maggie Haberman (@maggieNYT) January 2, 2018
OMG, It's exactly the same thing!!

(This is sarcasm. Maggie should know better than to make a moral equivalence between being blocked on Twitter and blocking the whole internet to suppress free speech, but then,…liberal and all that.) https://t.co/rl7oTzIUEK

— Melissa Mackenzie ? (@MelissaTweets) January 2, 2018
Now let's do the president's previous comments about authoritarians and we can talk about how irrelevant that is too https://t.co/IRcnwTMOT7

— Maggie Haberman (@maggieNYT) January 2, 2018
I'm not making a comparison, though I appreciate you want me to be. I am saying that this president, who never worked in public service prior to this, has a history of comments/acts at odds w some ideals of the US presidency https://t.co/OQ2APu0eWV

— Maggie Haberman (@maggieNYT) January 2, 2018
I don't think Trump should block people. I don't even block people. But that's not the same as Iran blocking Twitter itself. https://t.co/Wbg1KVs1O1

— Ben Shapiro (@benshapiro) January 2, 2018
I don't either and didn't think I was saying that. Perhaps inartfully, but my point is it's always worth recalling Citizen Trump versus the presidency of a Trump. Doesn't mean things are equal. https://t.co/l4Sa6jgeOb

— Maggie Haberman (@maggieNYT) January 2, 2018
[image via screengrab]
— —
Follow Josh Feldman on Twitter: @feldmaniac
Have a tip we should know? tips@mediaite.com
Josh Feldman - Senior Editor