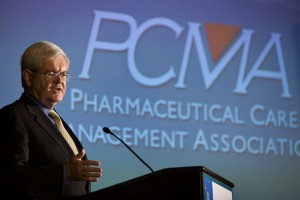 Since Obama was elected, former Speaker of the House Newt Gingrich has positioned himself at the heart of the national debate over health care, arguing from a pro-business, anti-public option vantage. He's written countless op-eds, blogged, Twittered, given newspaper interviews, and made the rounds on political talk shows, most recently This Week with George Stephanopoulos and The O'Reilly Factor, to promote his platform.
But despite the image of level-headed punditry that he seeks to project, Gingrich enters the debate with the most basic kind of bias: major financial ties to health insurance companies with an interest in insurance remaining private. Why does Gingrich so often neglect to mention that he has a big financial stake in the outcome of the healthcare debate, and that it happens to line up with the side he's arguing? And why do so many outlets give him a free pass? In light of Obama's recent hints that he may be backing away from the public option, it's a question worth asking whether Gingrich and his ilk have been treated more leniently by the media.
Gingrich will mention that he is the founder of The Center for Health Transformation (CHT), though he rarely says what that is. You'll be forgiven if that sounds like a nonprofit think tank to you, a la The Center for American Progress, The Center for Reproductive Rights, The Center for Public Integrity… in fact, you'd be hard-pressed to find a "Center for [X]" that isn't a nonprofit or a government agency (i.e. the CDC). But the Center for Health Transformation is a maverick. It is a for-profit network of health care professionals and companies "striving towards system-wide transformation." CHT has four levels of membership; though its members includes non-insurance companies like Microsoft, Gallup, and UPS, its membership prominently features major health insurance providers like Wellpoint, UnitedHealthcare, Aflac, and BlueCrossBlueShield. In an email to Mediaite, Alissa Momberg, the CHT's Communications Coordinator, said that "despite their individual interests, our members consistently come together to work toward a common mission of creating a 21st Century Intelligent Health System."
According to Washington Post and NYT articles dredged up by Media Matters, which looked into Politico's nondisclosure of Gingrich's financial ties to insurance companies in April, CHT members pay up to $200,000 yearly. Though he isn't a registered lobbyist, access to Gingrich is a major selling point of membership, featured prominently on the Center's website. One of his former advisers told the Post that "He has the amount of influence he chooses to have. I suspect there is virtually no one in this town of either party who will not take a call from Newt Gingrich, if only to hear what he has to say."
It's no great secret that the big health insurance companies are against a national public health care plan, which would cut into their profits. And they have a powerful tool in Gingrich. Why doesn't anyone ever mention that money is changing hands?



On August 9th, Gingrich debated health care with Howard Dean on This Week with George Stephanopoulos. He mentioned The Center for Health Transformation's estimate that "government fraud between Medicare and Medicaid is between $70 billion and $120 billion a year," but he neglected to explain that the nonprofity-sounding Center is, in fact, for-profit — and neither did Stephanopoulos, though he called Dean out for his own consulting work with Democracy for America. Gingrich was identified simply as the "former House speaker."
In a telephone interview with Mediaite, David Cameron, the EP of This Week, defended the show's identification of Gingrich, arguing that his affiliation with the Center for Health Transformation probably didn't change his position. Among other points, he mentioned that most Americans know Gingrich as the former Speaker of the House, which is why he was only identified as such,  and the fact that the CHT's membership includes many companies not directly tied to healthcare or health insurance, such as Microsoft. He also said that given Gingrich's ideological track record, his business ties probably wouldn't change the positions he'd argue. "He's not going to be necessarily influenced by an organization that he sets up himself," Cameron said; "he doesn't come as a lobbyist for the organization, he comes as Newt Gingrich."
But this is letting Gingrich off too easy. As a media fixture taking loud, sometimes sketchy stances in a major public debate, he should be subject to at least the same degree of scrutiny as a columnist or other opinions journalist; witness Ben Stein getting the axe for his FreeScore ads, which didn't even affect his beat directly. Newt's financial ties with health insurance companies are relevant to the positions he takes. Any outlet that lets them slide is letting its audience down.
Have a tip we should know? tips@mediaite.com