New Feud? Maddow Talks "Dominant" Fox, "Complete Different Universe" of Hannity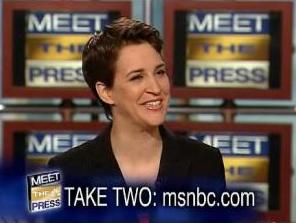 Besides her Meet the Press appearance on NBC this weekend, MSNBC host Rachel Maddow was also the featured guest on the Web only "Take Two" segment.
Maddow began her TV career without a television set, and for the beginning of her MSNBC hosting duties, her disinterest in the other cable news networks was evident. But as she weighed in on her 9pmET competition yesterday, it's clear that has changed.
Maddow said "I feel like I won the job lottery," when moderator David Gregory asked about her MSNBC show. And she continued about the cable news landscape:
Honestly, in the cable news world, Fox is so dominant. Yes, we're beating CNN, but Fox is lapping both of us right now. And they are approaching this in a totally different way. So I think about the universe of cable news, is sort of this strange universe. It's sort of like me against Larry King at 9 o'clock but Mr. King does a very different show than I do, and we're up against Mr. Hannity, who's operating on a complete different universe as far as I can tell. So the milieu in which I operate is one that I don't totally understand, so I try to stay really focused on the content.
This is a fairly strong statement from Maddow. No one would argue her show is like Larry King's in tone, and certainly not like Sean Hannity's in political slant. But more conservative watchdogs are paying attention to the 9pmET host, and taking issue with some of her segments.
Could we see another O'Reilly-Olbermann feud brewing, this time between 9pmET hosts? Maddow v. Hannity: let's see Sean wants to weigh in on his "complete different universe" tonight…
Here's the "Take Two" segment, with the cabler discussion beginning around 2:00:
Have a tip we should know? tips@mediaite.com