Newt Gingrich Shrugs Off Rumors Of Wife's Campaign Role: 'She Plays The French Horn'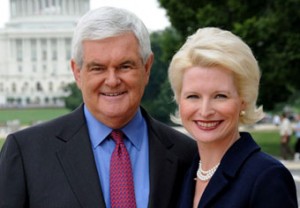 This morning, GOP presidential hopeful Newt Gingrich called in to The Chris Stigall Show to discuss, among other topics, his wife Callista Gingrich's role in his campaign.
Ms. Gingrich has been at the center of much media speculation, particularly after several members of her husband's campaign staff left en masse amidst grumblings over her role in and control over the campaign. Last week, Gingrich demanded that NBC apologize for airing a story on his wife, calling the report "the kind of thing that makes it hard to make decent people run for office."
Gingrich sang his wife's praises to Stigall:
Well, let me just say this, that Callista is a music major; she majored in piano, she plays the French horn. She's played it at the City of Fairfax Community Band since 1989. She is a singer in a professional choir at the Basilica of the National Triumph of the Immaculate Conception and sings in a remarkable choir that's a 24-person group that really is among the most beautiful choirs in the country. She has produced seven movies. She was the chief clerk of the House Agriculture Committee. She has a foundation which has given away a good bit of money and she is a very, very good executive. You know, what seemed to bother the consultants was really straightforward: We're a couple; we're talk together about big decisions. They seem to want total control of our lives. In fact, they said so at one point.
What does… why… we don't even… French horn. French horn? French horn.
Have a listen, courtesy of The Chris Stigall Show:
Have a tip we should know? tips@mediaite.com