NFL Wants M.I.A. to Pay $16.6 Million for Flipping the Bird at 2012 Super Bowl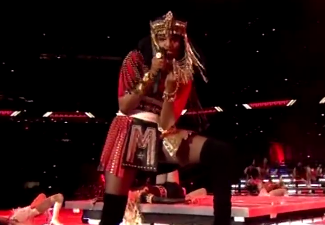 Two years ago, M.I.A. flipped a barely-visible bird during her Super Bowl halftime performance. Do you remember that at all? No? Well, the NFL does, and they are going after M.I.A. for $16.6 million, $1.5 million of which they were already pursuing for alleged breach of contract; the other $15.1 million was added on recently as "restitution" for the exposure she got for the performance.
Not since the infamous "wardrobe malfunction" has any Super Bowl performance garnered this kind of controversy, and according to The Hollywood Reporter, M.I.A.'s legal team is fighting back by turning the tables on the NFL and saying they really aren't in any position to lecture anyone about televised indecency when in past performances, Michael Jackson grabbed his crotch and Prince stroked his guitar neck in a pretty suggestive manner, and neither man got in trouble.
THR obtained M.I.A.'s arbitration papers [PDF], in which the idea the NFL's image was damaged at all is complete bull.
The continued pursuit of this proceeding is transparently an exercise by NFL intended solely to bully and make an example of Respondents for daring to challenge NFL. Such aggressive posture toward Respondents stands in marked contrast to how NFL looks the other way and does nothing to sanction its players, the coaching staff of its member teams, and even its team owners for engaging in precisely the sort of conduct it accuses Maya of here ("flipping the bird"), or for even dramatically worse conduct.
In fact, the document continues, the NFL has quite a reputation for "profane, bawdy, lascivious, demeaning and/or unacceptable behavior by its players, team owners, coaching and management personnel, and by performers chosen and endorsed by NFL to perform in its halftime shows."
[h/t Jezebel]
[photo via screengrab]
— —
Follow Josh Feldman on Twitter: @feldmaniac
Have a tip we should know? tips@mediaite.com
Josh Feldman - Senior Editor