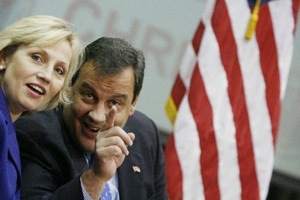 Tea Party darling Chris Christie has landed in hot water with some New Jersey legislators after leaving the state, along with Lt. Gov. Kim Guadagno, during this weekend's blizzard. Guadagno is the inaugural tenant of her office. Previously, the President of the Senate would take over for an indisposed governor; current Senate President Stephen Sweeney is running New Jersey upon Christie's and Guadagno's departure.
The Star-Ledger reports that prominent Democratic lawmakers are, besides somewhat upset with the simultaneous vacations of the governor and lieutenant governor, upset that the latter job was created in the first place if it had little impact with the way the state was run in practice:
"We clearly made a mistake if we created the office lieutenant governor and wasted money if the lieutenant governor is not going to be here when the governor is out of state," said state Sen. Raymond Lesniak (D-Union). "It's being handled very well by Sen. Sweeney, but you have to really question the purpose of the office."
Sen. Lesniak was not unanimously supported in his skepticism, however. "The real purpose of the law was to avoid that situation where you have one person controlling two-thirds of the government," Democratic Assemblyman John McKeon, adding that he is not "overly-critical" during the holiday season as the purpose of the law was not broken.
Government jobs are a major point of contention in New Jersey politics, as the state has one of the largest and most expensive state governments in the nation, and Christie's campaign platform promised drastic cuts to said jobs and salaries to help balance the budget. The creation of a new job was met with some skepticism when introduced during the Jon Corzine administration but ultimately passed a constitutional referendum vote in the state in 2005.
Christie's spokesman, in typical Christie form, defended the governor's escape to Disney World by noting that "the world is not coming to an end" and "We are a northeastern state and we get snow – sometimes lots of it like this – and we will get through it just as we always do.
Have a tip we should know? [email protected]