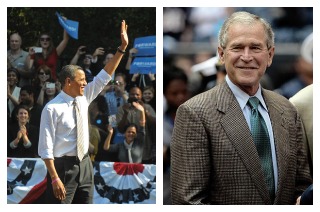 The news that former President George W. Bush's poll numbers have improved dramatically since he left office in 2009 was greeted by conservatives on Tuesday with a mixture of vindication and glee. According to Gallup, by 49 to 46 percent, Bush's favorability rating had exceeded his unfavorability rating for the first time since 2005. Some conservative news organizations even made the claim that Bush had even surpassed President Barack Obama in popularity. Sadly for conservatives, this is not the case.

"Americans' views of former president George W. Bush have improved, with 49% now viewing him favorably and 46% unfavorably. That is the first time since 2005 that opinions of him have been more positive than negative," the Gallup release read.
Conservative sites like Breitbart and Drudge Report ran with the news that "Bush more popular than Obama…"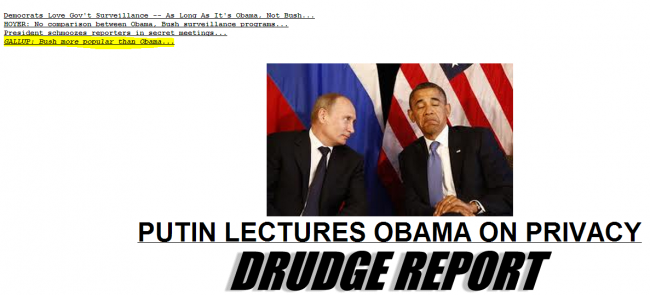 Actually, No. At least, probably not.
RELATED: Howard Dean Warns Against Assuming Gov't 'Benign': Bush Running Surveillance 'Would Make Me Nervous'
Conservatives are conflating favorability rating with job approval rating. Obama's job approval rating, as measured by Gallup's tracker, was last pegged at 47 percent approve and 44 percent disapprove. Bush left office, according to Gallup's January 9 – 11, 2009 track, with a 34 percent job approval rating.
This measurement, however, is not the same thing as personal favorability.
It is important to test Gallup results against Gallup results to ensure the polls are methodologically consistent. Gallup does not test the president's favorably rating regularly, but the last time they did (April 11 – 14, 2013) they found Obama with a 55 to 43 percent personal favorability rating. That was down only slightly from the last time they tested it right after the president's reelection in November, 2012, when Obama received a 58 to 40 percent favorability rating.
One would have to imagine that if Gallup were to test Bush's job approval rating, albeit retrospectively, it would not even approach 49 percent.
> >Follow Noah Rothman (@NoahCRothman) on Twitter
Have a tip we should know? tips@mediaite.com