No Joke: Sarah Palin Reportedly Quits One Nation Bus Tour Halfway Through (Update)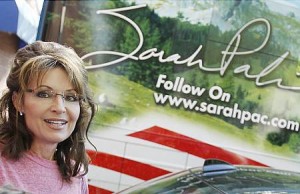 Real Clear Politics is reporting that Sarah Palin has taken an "extended hiatus" from her much ballyhooed One Nation Bus Tour. While the tour was never clearly defined with specific stops (especially to the media), Palin had made clear her intention to visit the very politically influential states of Iowa and South Carolina, which raised reasonable expectations that she had some sort of political goal in mind. Well it appears that those stops, and all others, have not been shelved and the Palins have retreated to their home of Alaska for the rest of the summer.
Roughly a month ago, the entire media world seemed particularly vexed by Palin's One Nation bus tour. Several prominent personalities wondered what was the point of Palin taking a tour through numerous swing states if not the most obvious explanation: running for President. For her part, Palin simply described the tour as a trip to get to better know America's history, and some commentators insisted that her goal was only that of self-promotion and that it was nothing more than a publicity tour.
Palin was steadfast in her defense, however, specifically telling Fox News Greta Van Susteren that the tour was "not about (her)" and that this was not a "publicity-seeking tour," adding that the tour was about America's history and reconnecting the nation with its great past.
Well that part appears to be over, Writing for Real Clear Politics, Scott Conroy reports:
Though Palin and her staff never announced a timeline for the remaining legs of her trip, aides had drafted preliminary itineraries that would have taken her through the Midwest and Southeast at some point this month. But those travel blueprints are now in limbo, RCP has learned, as Palin and her family have reverted to the friendly confines of summertime Alaska, where the skies are currently alight for over 19 hours a day and the Bristol Bay salmon fishing season is nearing its peak.

As Palin enjoys her sojourn to the 49th state, she has not reconnected with key early-state figures like Iowa Gov. Terry Branstad and South Carolina Gov. Nikki Haley, and she may have jeopardized whatever political momentum she gained from her recent reemergence in the 2012 discussion. Her political action committee's website still greets visitors with a stale banner, announcing the nationwide bus tour beginning "[t]his Sunday, May 29th."

More than a few of Palin's core supporters have grown impatient and confused about her strategy, venting their frustration on Internet fan sites.
Critics of Palin are certain to compare the appearance of her ending her bus tour before it was complete, to her resignation of the office of Governor before her term was complete. And whether or not that is a fair comparison is almost besides the point; her detractors will always find fault with her decisions. Its not all bad for Palin, however, as that criticism will likely only serve to bolster her supporters. It's the way American politics works now.
With her bus tour now over (or at least on extended hiatus) the media's attention will now turn to whether or not the former Governor of Alaska will throw her hat into the presidential ring. And according to Conroy, Palin seems in no hurry to make that very big decision.
Update: Not so fast? Sarah Palin appears to have commented on this particular news narrative, oddly calling out FoxNews.com report: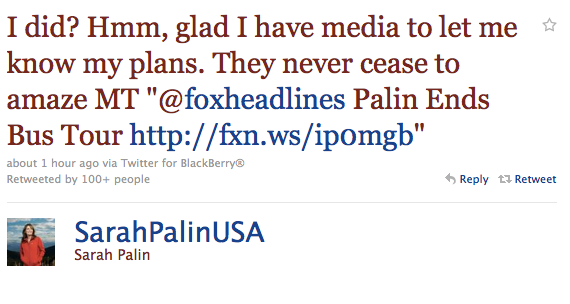 Stay tuned!
(H/T Philip Bump)
Have a tip we should know? tips@mediaite.com
Colby Hall - Founding Editor