In the aftermath of Wednesday night's shooting at a black church in Charleston, South Carolina, a longtime board member of the National Rife Association is blaming the church's murdered pastor, Reverend Clementa Pinckney, for the deaths of eight of his congregants. On a Texas gun rights forum topic that appears to have been deleted, Charles L. Cotton posted the comment below: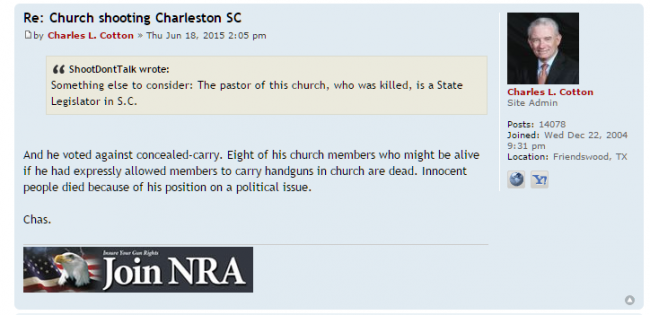 Because Rev. Pinckney voted against concealed-carry laws during his time as a state senator, Cotton concluded, "Eight of his church members who might be alive if he had expressly allowed members to carry handguns in church are dead. Innocent people died because of his position on a political issue."
The 41-year-old Pinckney, who led the Emanuel African Methodist Episcopal Church staring in 2010, introduced a number of bills aimed at helping to reduce gun violence over the past couple of years, few of which were ultimately successful.
It is not currently legal to carry a concealed weapon in a church, despite the best efforts of some conservative lawmakers in South Carolina.
UPDATE — 2:30 p.m. ET: A reader who serves as a pastor in South Carolina has alerted us to the fact that there is an exception to the rule that bans concealed weapons in churches:
@themattwilstein I'm a pastor in SC. It IS legal to carry concealed weapon in a church if you have written permission from church leadership

— Marshall Fant IV ن (@mfant) June 19, 2015
The relevant section of the law reads:
(M) A permit issued pursuant to this section does not authorize a permit holder to carry a concealable weapon into a:

(1) police, sheriff, or highway patrol station or any other law enforcement office or facility;

(2) detention facility, prison, or jail or any other correctional facility or office;

(3) courthouse or courtroom;

(4) polling place on election days;

(5) office of or the business meeting of the governing body of a county, public school district, municipality, or special purpose district;

(6) school or college athletic event not related to firearms;

(7) daycare facility or pre-school facility;

(8) place where the carrying of firearms is prohibited by federal law;

(9) church or other established religious sanctuary unless express permission is given by the appropriate church official or governing body; or

(10) hospital, medical clinic, doctor's office, or any other facility where medical services or procedures are performed unless expressly authorized by the employer.
[h/t MMFA]
[Photo via screengrab]
— —
>> Follow Matt Wilstein (@TheMattWilstein) on Twitter
Have a tip we should know? tips@mediaite.com