Here's What Shows Up When You Google 'Stormy Daniels Video' (It's Not Anderson Cooper)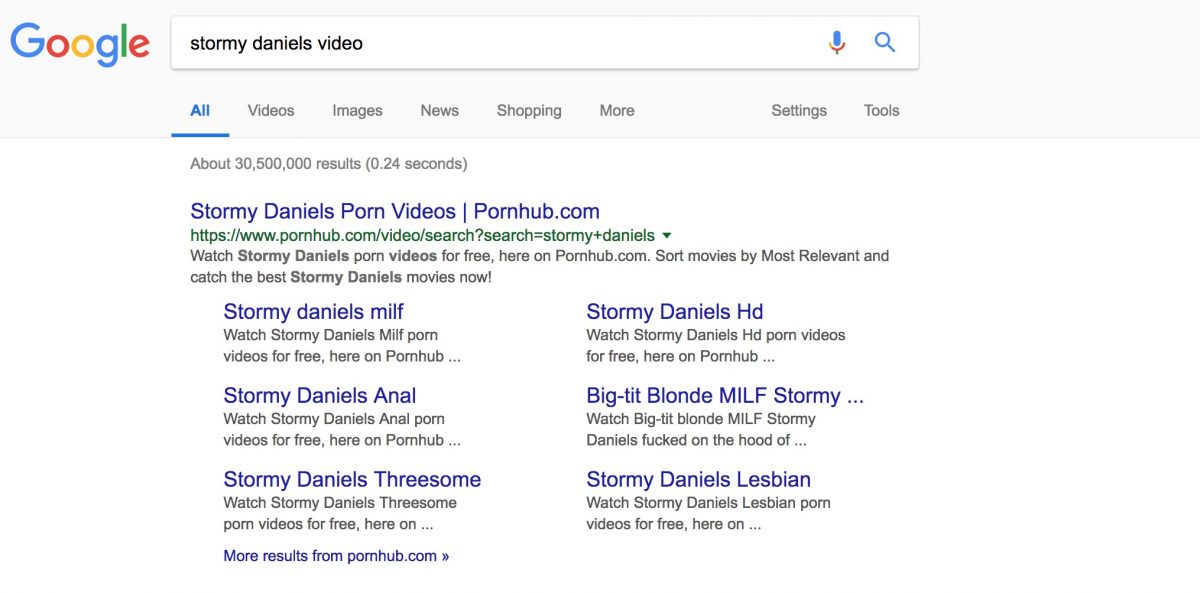 If you missed the Stormy Daniels  60 Minutes extravaganza that went down last night, you may want to be careful while trying to catch up on the interview, as Googling the porn star's name coupled with "video" leads to some less than safe for work search results.
As can be seen above, an innocent search of "stormy+daniels+video" brings up Daniels' Pornhub dot com profile as the top result, featuring her most popular results — which include the keywords "milf," "anal," "threesome," "Hd," (for you high quality porn snobs) "Big-tit Blonde MILF," and "lesbian."
With the news cycle in the state that it is, explaining to your boss that you landed on Pornhub while researching may be easier than in the past, but you also may want to try the old "it's a virus!" trick if that's easier than discussing President Donald Trump's alleged fetish for being spanked with a magazine.
Of course, this post is not just a warning for the casual consumer of the news trying to get to the bottom of this President of the Untied States-fucking-a-porn-star business. It's also a warning to the journalists covering the spectacle, considering their history of "accidentally" viewing or tweeting pornography.
With Vanity Fair editor Kurt Eichenwald mistakenly including evidence of tentacle porn watching in a picture of his computer, Talking Points Memo publisher Josh Marshall showing the world his affinity for lesbian "kissing teasing licking & fucking," and ESPN analyst Gerry Hamilton tweeting-and-quickly-deleting a mysterious Pornhub link, big-J journalists clearly don't have the best track record when separating their work life from their very, very personal life.
Additionally, while we at Mediaite would never kink-shame, Sen. Ted Cruz and his staffers should avoid this story completely, given his office's noted interest in MILF and incest porn.
So tread lightly, my lanyard-wearing friends, and double-check all Daniels related links before tweeting something that could land you on Mediaite's front page.
[images via screengrab and Ethan Miller/Getty Images]
Follow the author on Twitter (@calebecarma).
Have a tip we should know? tips@mediaite.com