Ted Nugent Will Take On The Post-SOTU 'Media Orgy' Just As He 'Danced On The Skull Of Piers Morgan'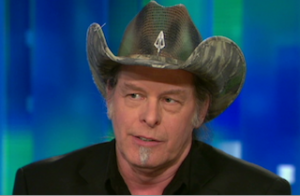 Ted Nugent opened up about his plans to attend Tuesday night's State of the Union address this afternoon on talk radio host Mike Broomhead's Phoenix show.
While the man who has called President Obama "vile," "evil," and "psychotic" made sure to say he will "respect the Office of the President" during the speech, he said he will be "taking on the media orgy" after it concludes.
"We know that the president will have the state of the union stacked and jammed with props, children, and victims of violent crime," Nugent told Broomhead. "And my friends wanted me to attend to counter that the way that I do: with facts, statistics and common sense and logic and a celebration of self-evident truths."
One of the "friends" Nugent referred to is Rep. Steve Stockman (R-TX) who invited the NRA board member, guns right activist and occasional rock performer to be his guest at the event.
To get a sense of how he will counter President Obama to the media, Nugent suggested people look to his recent interview with Piers Morgan about guns. "I will do my best, as you saw me dance on the skull of Piers Morgan recently," Nugent said, "to counter the scams and the lies of the left with irrefutable documented evidence."
Nugent cautioned the press covering the State of the Union not to underestimate him, calling himself a "force to be reckoned with" who will "dominate them." Media orgy, you have been warned.
Listen to audio below, via KFYI:
(h/t TPM)
—
>> Follow Matt Wilstein (@TheMattWilstein) on Twitter
Have a tip we should know? tips@mediaite.com