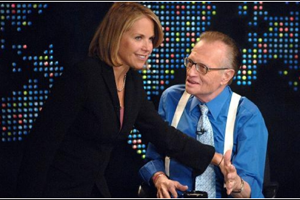 New York Magazine's "Daily Intel" blog is reporting that CBS and CNN are cooking up what could be a game changer for the cable news landscape: a partnership where both networks would share talent and airtime, with the possibility of seeing CBS' Katie Couric taking over the CNN 9PM spot currently inhabited by Larry King.
From the NY Mag report:
CBS News and CNN are in advanced negotiations about signing a news-gathering partnership, according to executives familiar with the discussions. The talks revolve around how the two news divisions can combine operations in a bid to cut costs and expand audiences on both sides. While such conversations have occurred over the last decade, the current news-business climate — plummeting CNN ratings, ever-shrinking evening-news audiences, major layoffs at ABC — make a deal more logical than ever before.
The report notes that both CBS and ABC had expressed interest in a merger in the past, pointing to the successful transfer of NBC talent to MSNBC, but that the final negotiations to on how to share talent and airtime never reached a conclusive point. This time around, because of CNN's comparatively lackluster ratings in primetime and CBS' interest in maintaining a news audience against the current of diminishing network news viewers, NY Mag reporter Gabriel Sherman is saying the deal makes "too much sense" from a financial standpoint.
The main issue in the merger– the one that has apparently ended all previous talks between CNN and network news– is the way in which talent would be distributed across networks. As the companies would remain separate entities despite cross-promoting, the balance between the two in making new decisions and giving their talent publicity is the trickiest part of the deal. NY Mag reports that two of the names most likely to make cross-network appearances are Anderson Cooper and Katie Couric, the latter whose contract is will be up for negotiations next year. Sherman posits that Couric would be a possible successor to Larry King, bringing her into cable news primetime.
Because the negotiations are still ongoing, neither network has made public statements on the matter, but the idea is, at the very least, innovative. CNN is already unique among the three biggest cable news outlets because it is not associated with one of the major broadcast networks. Unlike MSNBC or Fox News, a deal like this would allow CNN to remain semi-autonomous but still reap the starpower of a major network, while giving CBS news the backing of television's first 24-hour news network.
Have a tip we should know? tips@mediaite.com