NY Times Hypes 'Link To Political Incitement' in 2011 Shooting of Rep. Giffords; Twitter Erupts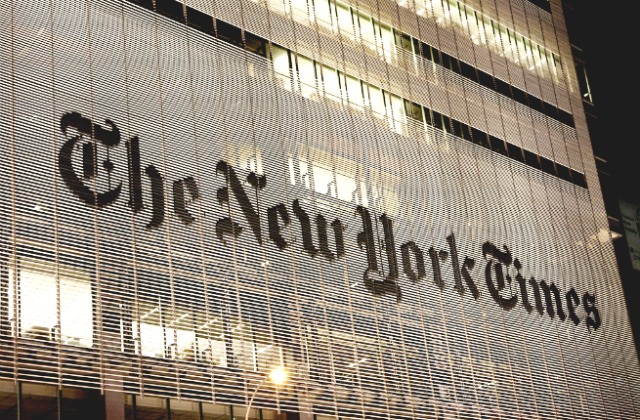 Conservatives on Twitter blasted the editorial board of the New York Times on Wednesday evening, after the newspaper published a pro-gun control editorial that claimed that there was a "clear" connection to Sarah Palin in the 2011 mass shooting in Tucson, Arizona.
The unsigned piece reacted to the Wednesday mass shooting targeting Republican members of Congress in Alexandria, Virginia. The Times board wondered, "Was this attack evidence of how vicious American politics has become? Probably."
The op-ed continued with an account of the Giffords shooting and the supposed connection the former Alaska governor.
…In 2011, when Jared Lee Loughner opened fire in a supermarket parking lot, grievously wounding Representative Gabby Giffords and killing six people, including a 9-year-old girl, the link to political incitement was clear. Before the shooting, Sarah Palin's political action committee circulated a map of targeted electoral districts that put Ms. Giffords and 19 other Democrats under stylized cross hairs.
The Times editorial continued by pointing out that "conservatives and right-wing media were quick on Wednesday to demand forceful condemnation of hate speech and crimes by anti-Trump liberals. They're right." They added by claiming that "though there's no sign of incitement as direct as in the Giffords attack, liberals should of course hold themselves to the same standard of decency that they ask of the right."
Right-of-center Twitter users unleashed on the publication shortly after they posted the op-ed online.
This paragraph in today's NYT editorial on Alexandria shootings is offensively, quasi-Stalinistically wrong: https://t.co/nWhhcHfMso pic.twitter.com/LkJFifUh73

— Jeff B/DDHQ (@EsotericCD) June 15, 2017
It has literally been proven beyond any doubt–b/c Loughner survived+left copious journals–that Giffords shooting was NON-political.

— Jeff B/DDHQ (@EsotericCD) June 15, 2017
Calling this quasi-Stalinist is too kind. It's shameful, disgraceful, and betrays utter contempt for the truth.https://t.co/wYXT5Gwf8l

— Brandt (@UrbanAchievr) June 15, 2017
Unbelievable. The Times is still peddling this despicable lie. https://t.co/TyGFopPt6m pic.twitter.com/2wibKRbmnQ

— James Taranto (@jamestaranto) June 15, 2017
The New York Times is well aware that any link between Palin and the Giffords shooting were long debunked, but they're going for it anyway. pic.twitter.com/BgzaQFQMz6

— Josh Jordan (@NumbersMuncher) June 15, 2017
Even by the standards of NYT editorials, this is a total lying piece of shit https://t.co/KJJGeEIb4S

— Allahpundit (@allahpundit) June 15, 2017
David Rutz of the conservative Washington Free Beacon website also pointed out a June 2016 editorial that the Times published it the wake of the Pulse nightclub massacre, where the newspaper bewailed "the state of American politics, driven too often by Republican politicians who see prejudice as something to exploit, not extinguish."
.@nytimes editorial board has now done editorials about Pulse and Alexandria shootings that found a way to blame Republicans. pic.twitter.com/EXJZJiz1Is

— David Rutz (@DavidRutz) June 15, 2017
So was there an actual connection between Loughner and Palin? Shortly after the shooting, Jake Tapper, then with ABC, noted that the murderer's interest in Rep. Giffords dated " back to 2007, three years before Palin's map." Tapper also cited how "one acquaintance from 2007 described him as liberal."
An April 2014 article from CBS News also detailed how Loughner's mental state was "unraveling in the months before the rampage, issuing paranoid, expletive-filled Internet rants about government conspiracies, suicide and killing police."
You can see the full editorial here.
UPDATE – 12:00 p.m. EST: The Times has added a correction to the article.
An earlier version of this editorial incorrectly stated that a link existed between political incitement and the 2011 shooting of Representative Gabby Giffords. In fact, no such link was established.
[image via Osugi / Shutterstock.com]
Have a tip we should know? tips@mediaite.com