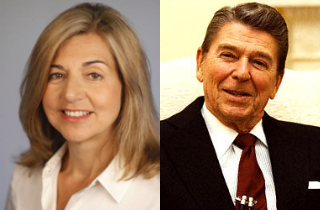 New York Times Public Editor Margaret Sullivan addressed complaints Tuesday over a recent article that took seriously plagiarism accusations against The Invisible Bridge, Rick Perlstein's new book about the mid-70s Reagan insurgency. Craig Shirley, a fellow Reagan biographer, has accused Perlstein of "duplicating language" without attribution, while Perlstein maintained that Shirley's scholarship was paraphrased, not quoted, and clearly cited in online endnotes, as the kidz do nowadays.
What's the hubbub? Well, Perlstein is a left-leaning historian of the postwar conservative movement, and as Slate's Dave Weigel pointed out, his new book has trespassed onto sacrosanct territory: it's one thing for a liberal to write about Barry Goldwater and Richard Nixon (the subjects of Perlstein's previous volumes), quite another about Ronald Reagan, Patron Saint of whatever Republicans believe right now.
Sure enough, Shirley and some other accusers are conservative, which led many, including The New Yorker's Jeffrey Toobin and Fusion's Felix Salmon, to allege to Sullivan that the plagiarism charges were politically motivated. Toobin dismissed the claims as sub-flimsy, and Salmon described them as "an entirely fake 'controversy,' ginned up wholly by wing nuts who think that Reagan is God and that any left-wing criticism of him, no matter how scholarly and intelligent, is tantamount to blasphemy."
Sullivan talked to the editing team behind the piece, as well as to Perlstein himself. Her conclusion: the plagiarism charges were unwarranted and should not have been given the imprimatur of the Times:
An article about polarized reaction to a high-profile book is, of course, fair game. But the attention given to the plagiarism accusation is not.

Yes, the claim was "out there" but so are smears of all kinds as well as claims that the earth is flat and that climate change is unfounded. This one comes from the author of a book on the same subject with an opposing political orientation. By taking it seriously, The Times conferred a legitimacy on the accusation it would not otherwise have had.

And while it is true that Mr. Perlstein and his publisher were given plenty of opportunity to respond, that doesn't help much. It's as if The Times is saying: Here's an accusation; here's a denial; and, heck, we don't really know. We're staying out of it. Readers frequently complain to me about this he said, she said false equivalency — and for good reason.

So I'm with the critics. The Times article amplified a damaging accusation of plagiarism without establishing its validity and doing so in a way that is transparent to the reader. The standard has to be higher.
[h/t New York Times]
[Image via New York Times]
——
>> Follow Evan McMurry (@evanmcmurry) on Twitter
Have a tip we should know? tips@mediaite.com