NYT Editor: We're Not Running Hebdo Cartoons Because They're 'Gratuitous Insult'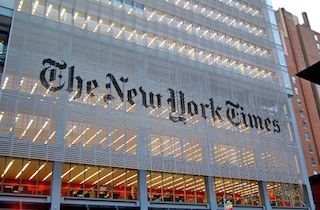 Earlier today, CNN head Jeff Zucker said what a lot of other network heads likely said today: as a matter of journalistic importance, they want to run the Charlie Hebdo cartoons, but they don't want to risk the safety and security of their employees. Today The Washington Post made the decision to show one of the cartoons just for the sake of showing readers directly what the controversy was about, while The New York Times opted not to.
So why did the Times not run the cartoons? Well, Times public editor Margaret Sullivan spoke with executive editor Dean Baquet and relayed his rationale. Baquet, reportedly, started out the day by planning to run the cartoons, but he kept changing his mind back and forth about it. Some of the Times' international reporters said they didn't feel running the cartoons would endanger them, but he still considered that as a factor.
But ultimately, it came down to this:
[H]e had to consider foremost the sensibilities of Times readers, especially its Muslim readers. To many of them, he said, depictions of the prophet Muhammad are sacrilegious; those that are meant to mock even more so. "We have a standard that is long held and that serves us well: that there is a line between gratuitous insult and satire. Most of these are gratuitous insult."

"At what point does news value override our standards?" Mr. Baquet asked. "You would have to show the most incendiary images" from the newspaper; and that was something he deemed unacceptable.
Now, some people on Twitter today have pointed out a slight issue there; this Times report from 2010 featuring a screen capture from an Iranian Holocaust cartoon website: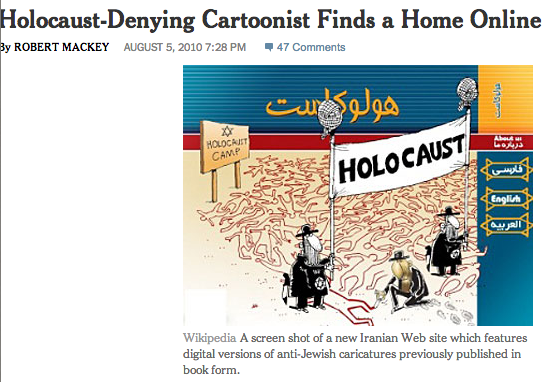 Might that also be considered an incendiary and gratuitously insulting image to show? Though in fairness, that was before Baquet took over as executive editor, which Baquet himself pointed out in a statement today to Politico.
[image via Wikimedia Commons]
— —
Follow Josh Feldman on Twitter: @feldmaniac
Have a tip we should know? tips@mediaite.com
Josh Feldman - Senior Editor