Obama Campaign: Romney's 'Double Standard' For Judging Obama Displays 'Breathtaking Hypocrisy'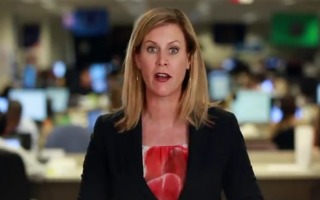 Stephanie Cutter, deputy campaign manager for President Barack Obama's reelection bid, released a web video on Tuesday morning where she took on what she called the Mitt Romney campaign's "double standard." Cutter said that the Romney campaign's "hypocrisy is breathtaking," and "they use a different standard for assessing President Obama's record."

RELATED: Obama Campaign Manager Has Combative Interview With Andrea Mitchell Over Gay Marriage
"The Romney campaign's entire message this week is based on a double standard that we can't let them get away with," said Cutter.
She went on to say that Romney's record as Massachusetts governor was dismal and their jobs creation record was better than only three other states during his term. Romney's spokespeople are explaining this away by suggesting that it took Romney's economic team some time to reverse the course the state was on before he took office.
"They're saying don't hold Mitt Romney accountable for the first three years he was in office because he inherited a bad economy, even though the national recession ended a year before Mitt Romney was even elected," said Cutter.
She says that Romney's team is using the same excuses that Obama's campaign is using, but Romney's campaign attacks Obama for using them.
"The hypocrisy is breathtaking, even for Romney," said Cutter. "President Obama is still creating more jobs than Gov. Romney ever did."
She went on to show a number of charts that purport to show Obama's job creation record eclipses that of Romney.
Watch the video below:
Follow Noah Rothman on Twitter
Have a tip we should know? tips@mediaite.com