Obamacare's First Deadline Already a Public Relations Disaster
Rothman: Obamacare's First Deadline Already a Public Relations Disaster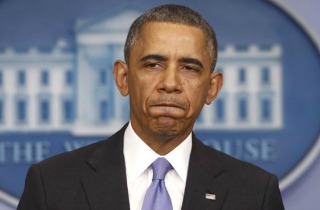 The White House announced on Monday that it had "successfully" signed up President Barack Obama for a "bronze plan" through the Affordable Care Act's health insurance exchanges. The administration admitted that the move was largely "symbolic," but they wanted to demonstrate a "show of support" for users attempting to navigate the insurance exchange marketplaces. And those marketplaces are in dire need of a show of support.

Earlier, the White House — quietly and without announcement — delayed the deadline to purchase insurance in order to receive coverage by January 1 from December 23 to December 24.

Within hours of that delay being revealed to the public, however, White House communications official Jennifer Palmieri informed MSNBC's audience that it would be "dangerous" for consumers to consider tomorrow to be the new deadline, even though it now is. She stressed that the problem-plagued website may fail and leave uninsured users without coverage at the start of the 2014.
RELATED: Obama 'Enrolls' in Obamacare, Selects 'Bronze Plan'
The fact that the website seems to be struggling even as the first of many dubious deadlines has been reached was confirmed on Monday by none other than President Obama. Even as reporters observed the president's photo-op enrollment was a mere display in order to inspire confidence in the ACA's product (the president receives health care through the military), it would be difficult for the average person to replicate the president's experience.
According to reports, the president –- on vacation in Hawaii –- was able to register for a "bronze plan" through the Washington D.C. exchange. Further, Obama's advisors completed the task for him "in person," meaning that they traveled during a weekday to a local ACA navigator's office and enrolled the president by themselves.
"Like some Americans, the complicated nature of the president's case required an in-person sign-up," an unnamed White House official told POLITICO. "As you'd expect, the president's personal information is not readily available in the variety of government databases HealthCare.gov uses to verify identities."
Even assuming you have the staff that can facilitate your enrollment without you — at midday on a Monday, no less — the chances that you will receive the same priority status as the President of the United States in your home state's exchange's offices are slim.
This post was completed less than 15 hours into the first ACA deadline. Surely, more follies are to come over the course of the next nine long hours.
[Photo via AP]
— —
> >Follow Noah Rothman (@NoahCRothman) on Twitter
Have a tip we should know? tips@mediaite.com