Obama's Response to DACA Repeal Highlights the Intersection of Politics and Human Decency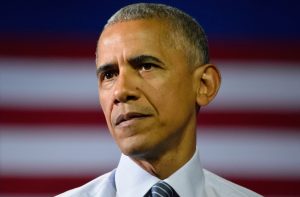 With news that President Donald Trump and the Department of Justice would be rescinding Deferred Action for Childhood Arrivals, unsurprisingly came a passionate response from former President Obama, who was the architect of the 2012 policy to protect undocumented children who have lived their whole lives in America.
"To target these young people is wrong — because they have done nothing wrong," Obama wrote in a Tuesday Facebook post. "It is self-defeating — because they want to start new businesses, staff our labs, serve in our military, and otherwise contribute to the country we love. And it is cruel."
But he went beyond calling the decision cruel, to remind us that at its core, the debate around immigration is one not of politics, but human decency.
"Ultimately, this is about basic decency," he wrote. "This is about whether we are a people who kick hopeful young strivers out of America, or whether we treat them the way we'd want our own kids to be treated. It's about who we are as a people – and who we want to be.
"What makes us American is not a question of what we look like, or where our names come from, or the way we pray. What makes us American is our fidelity to a set of ideals – that all of us are created equal; that all of us deserve the chance to make of our lives what we will; that all of us share an obligation to stand up, speak out, and secure our most cherished values for the next generation."
On the particular issue of immigration and equality, Obama's words speak for themselves. But they also speak to broadly to today's culture around "being political." Especially in these increasingly polarizing times, most people try to erase politics from their everyday lives and to discourage others from being "political" — especially on social media. There's a reason the slur of calling individuals "social justice warriors" came about, and it's to silence people from speaking about unpleasant things that far more privileged Americans would rather not have to hear about.
Perhaps this erasure was fine a few years ago. But today, the line between politics and human decency has become almost impossible to distinguish. How can we reconcile recognizing politics as just politics when, today, the national political dialogue is one of whether or not minorities are equal to white people, whether or not LGBTQ people have the right to not be discriminated against, and whether or not women are more worthy of rights that fetuses.
Today, politics and basic decency are inextricably bound. Speaking up and fighting for what's right isn't "political" — it's being a decent human being.
The way our laws and elected leaders treat America's most vulnerable, treat Americans who are different than themselves, isn't a political issue — it's a human decency issue. Being "political" is so vastly and undeservedly stigmatized that for many, silence often seems like the better option in order to conform, fit in, and not start trouble. But today, this is no longer sustainable, not when thousands of peaceful and law-abiding Americans are fighting for survival.
You can read the former president's full comments, below:
This is an opinion piece. The views expressed in this article are those of just the author.