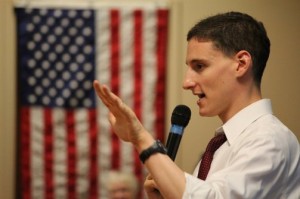 Most family gatherings tend to get awkward enough when the subject turns to politics; try having your relatives over after they try to derail your entire political career. That must be how Josh Mandel, Ohio state treasurer and current Republican Senate candidate, feels right now, after his in-laws took out an ad in the Cleveland Jewish News harshly criticizing Mandel for his anti-gay views, making it clear that such positions "violate… these core values of our family."
RELATED: Italian Magazine Discovers Rick Santorum's Distant Relatives Are 'Red Communists'
The open letter was written by Mandel's wife's cousins, who say that they welcomed him into their family with open arms, but were very disappointed to hear his stance on gay marriage. They tell Mandel in their letter that they have gay relatives in the family, and get personal in telling him why his views are misguided.
Josh, as you know, our roots are deep in the Cleveland area and we have friends and family we love throughout Ohio. This family is sprawling and diverse, but it has always believed strongly in the values of equality and inclusiveness. Your discriminatory stance violates these core values of our family. Nevertheless we hope that over time, as you advance in years and wisdom, you will come to embrace the values of inclusiveness and equality as well.


Mandel's campaign responded to the open letter by saying that none of the relatives who signed the letter live in Ohio, and he has never actually met any of the cousins who signed the letter, but "he looks forward to having the opportunity to meet them someday."
Most awkward Thanksgiving EVER.
[Image via]
—–
Follow Josh Feldman on Twitter: @feldmaniac
Have a tip we should know? tips@mediaite.com
Josh Feldman - Senior Editor