Olympics Opening Ceremony Recap: James Bond, Mr. Bean, And 'Leftie Multicultural[ism]'
Olympics Opening Recap: James Bond, Mr. Bean, And 'Leftie Multicultural[ism]'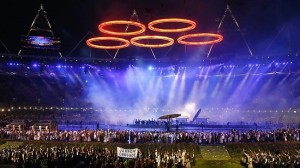 The 2012 London Olympics kicked off today with a spectacular opening ceremony that took the audience on a tour of British history and culture. The ceremony was directed by Danny Boyle, director of the films Slumdog Millionaire and 127 Hours. The ceremony indulged in the outlandish (rumors of a Mary Poppins army fighting a giant Lord Voldemort were confirmed), but according to The New York Times, it also "reflected the deeply left-leaning sensibilities of Mr. Boyle."
RELATED: Kelly's Court Tackles The Case Of Greek Athlete Kicked Out Of Olympics For Racist Tweet
Queen Elizabeth II entered the Olympic arena alongside Daniel Craig in the role of secret agent James Bond. In attendance were also First Lady Michelle Obama and Republican presidential candidate Mitt Romney, who will be traveling to Poland and Israel following his stay in Britain.
One of the comic highlights of the evening was the appearance of Rowan Atkinson in the role of his classic character Mr. Bean, inserted into the opening scene from Chariots of Fire, accompanied by the London Symphony Orchestra. The Times described the ceremony as "a sometimes slightly insane portrait" of the nation.
However, it also takes note of the ceremony's political aspects. A tribute to Britain's National Health Service during the ceremony featured a roving band of dancing nurses. Given the state of the nation's economy, Boyle did not want the ceremony to appear too "extravagant," but the Times highlights how Boyle's "left-leaning sensibilities" reflected the ceremony.
It pointedly included trade union members among a parade of people celebrating political agitators from the past, a parade that also included suffragettes, Afro-Caribbean immigrants who fought for minority rights, and the Jarrow hunger marchers, who protested against unemployment in 1936.

It would not be lost on Mr. Boyle that unions have suffered in Britain in recent years, particularly at the hands of the Conservative Party, led by Mr. Cameron. But he devised the ceremony, he said, with no political interference.

That proved highly irritating to at least one politician, Aiden Burley, a Conservative member of Parliament, who denounced what he referred to as the ceremony's "leftie multicultural" content on Twitter.

"The most leftie opening ceremony I have ever seen — more than Beijing, the capital of a communist state!" he posted grumpily.
h/t New York Times
Have a tip we should know? tips@mediaite.com
Josh Feldman - Senior Editor