'O'Reilly'd' And 'Mansplained': TNR's Julia Ioffe Goes Nuclear On 'Angry Grandpa' Lawrence O'Donnell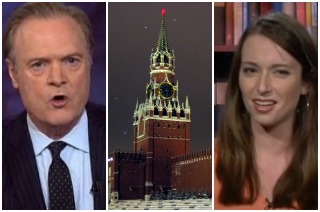 The New Republic's Julia Ioffe was not happy with her appearance on MSNBC's The Last Word with Lawrence O'Donnell on Wednesday night. "Lawrence O'Donnell yelled at me," she began. "Or, rather, he O'Reilly'd at me." Ioffe goes on to lambaste the MSNBC host who "interrupted and harangued and mansplained and was generally an angry grandpa" during her attempts to explain what Moscow's decision to give NSA leaker Edward Snowden asylum says or does not say about Vladimir Putin and Russia as a whole.

RELATED: Lawrence O'Donnell And New Republic's Julia Ioffe Scuffle Over Snowden
If you missed the clip of O'Donnell going off on an assertion by Ioffe that he regarded as nonsensical, watch it below:
His showy and rude display of incredulity over Ioffe's perfectly reasonable and informed assertions certainly merited a response. And Ioffe did respond, pulling no punches in the process:
"I'm not going to toot my own horn here, but I was there for three years, I'm a fluent, native speaker of Russian, and, god damn it, I know my shit," she began. "Which is why I wish you'd let me finish answering your bullshit question."
Ioffe proceeded to criticize O'Donnell for oversimplifying the situation Russia was confronted with when Snowden fled to "that airport in Moscow," as O'Donnell called it.
"('That airport in Moscow' is called, say it with me now, SHEH-REH-MEH-T-YE-VO! See, helps to have a Russia expert around!)" Ioffe bristled.
She also criticized O'Donnell for suggesting that Putin and his associates had omnipotent control over all goings on within the Russian Federation and that he should have been motivated to act exclusively in American interests in this situation. She said that this same misconception is shared by Russians when talking about the United States.
"The problem is that this was not in the ranting comments section, but was coming from the host of a prime time, national television show," Ioffe continued. "And if you don't have the good sense and education or, hell, the reporting experience to know better, then just let the guests you invited on speak."
"Otherwise, don't waste my fucking evening," she concluded.
Yeesh. While this is a bit of a silly, ego-driven episode, the fact that Americans are being treated to conversations about Russian interests, American foreign policy objectives, and how the two come into conflict is ultimately a good thing.
Just 10 months ago, daring to suggest that Americans should be conscious of how Moscow's policy goals might differ from Washington's was mocked and derided as being backward-thinking by many of the media commentators who believe themselves to be the height of sophistication – including O'Donnell and his MSNBC colleague, Rachel Maddow. Today, regrettable events have focused Americans' attentions on Russia's genuine policy objectives.
While the hypocrisy being demonstrated by some is glaring, the fact that Americans are now having an honest conversation about Russia is a welcome development.
> >Follow Noah Rothman (@NoahCRothman) on Twitter
Have a tip we should know? [email protected]