Pants On Fire! Politifact Calls Out Jon Stewart For Claiming Congress Worked On Christmas Centuries Ago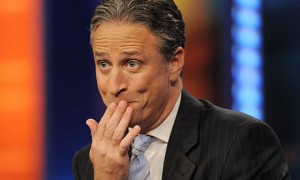 Political fact-checker Politifact is calling out Jon Stewart this week for citing an inaccurate segment from a History Channel documentary to take a swipe at Fox News's War on Christmas. The video had noted that "On Dec. 25, 1789, the United States Congress sat in session and continued to stay open on Christmas Day for most of the next 67 years." Politifact's C. Eugene Emery Jr. called this claim "flat-out wrong" through consulting the US Senate's historical record, and pegged the late-night comedian's assertion to be "pants-on-fire", which is an even harsher judgment than when they went after him last summer over claims about Fox News's viewers being misinformed.
RELATED: Jon Stewart Apologizes To PolitiFact, Reads List Of PolitiFact Fox News Corrections
Emery Jr. took the time to consult Historian of the US Senate Donald Ritchie about Stewart's citation of "Christmas Unwrapped – The History of Christmas" and found the claim dubious, pointing out that "Congress typically took Christmas Day off."
By looking through old Senate historical records, Emery Jr. found the History Channel was in fact wrong and declared Stewart to be not just False, but Pants On Fire!:
Jon Stewart, ridiculing Fox News' coverage of the "War on Christmas," repeated a claim by the History channel that Congress met nearly every Christmas Day from 1789 to 1856. The ACLU makes the same claim, based on a magazine article.

But daily records show the complete opposite, with just one exception each for the House and Senate.

So the assertion that Congress met virtually every Christmas during that period is completely False. The idea that members would do so when there's a 1 in 7 chance that Dec. 25 would fall on a Sunday makes this idea ridiculous. So gather friends and family around the hearth as we give this Christmas claim by Stewart, the ACLU and the History channel a collective Pants On Fire!
Watch the segment that earned Stewart a "Pants On Fire!" from Politifact below via Comedy Central:

(h/t Politifact)
Have a tip we should know? tips@mediaite.com