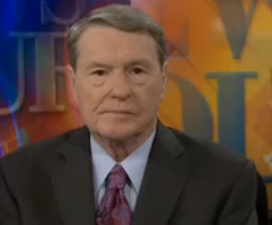 In many respects, PBS' NewsHour With Jim Lehrer is the anti-cable news show. Media Nation's Dan Kennedy is blunt in his assessment of it: "There is absolutely no need for a serious newscast to be that boring. NPR has hit on a formula that's intelligent but also keeps things moving."
Now, the show is getting a much-needed makeover for the web, though its 75-year-old host still refuses to Twitter.
From the Times:
A redone Web site will go up Thursday. It will be easier to find Mr. Brown's popular but often hidden Art Beat blog. Ms. Woodruff and Ms. Ifill, along with much of the rest of the staff, will begin contributing to a news analysis blog, as well. Mr. Sreenivasan, once he settles in, will anchor regular video news updates on the site, which will also feature extended interview material not used on the air.

All the show's content will be more easily adaptable to various digital outlets, including, eventually, an iPhone app, said Simon Marks, the show's new associate executive producer.

The challenge, Mr. Lehrer said in an interview in his office, is "to find a way to make it all seamless."
For the first time since 1976, Jim Lehrer's name will be dropped from the title of the show: rather than being called The Newshour with Jim Lehrer, it will be renamed PBS Newshour beginning December 7th.
They should be in good shape, though: As Jim Lehrer's deadpan joke-telling promo video for PBS' "Make 'Em Laugh" miniseries shows, the man is made for viral. "Two cannibals are eating a clown…"
(h/t Dan Kennedy)
Have a tip we should know? tips@mediaite.com