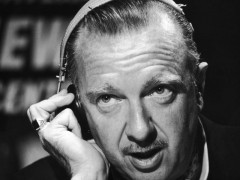 Twitter has been declared the most popular word of 2009 meaning, I presume, that in less than 12 months the act of Twittering has gone so mainstream that even your parents probably know what you're talking about.
It also means, I suppose, that this is how a whole lot of people are getting their breaking news these days — from the collective voice of God, as it were. The last time the nation got its breaking news from one person is arguably when news legend Walter Cronkite was manning the CBS News desk (and yes I know there were other network new anchors at the time, but can you name any of them?). So perhaps it's not a surprise that TechCrunch saw fit to draw a direct comparison between the two.
The difference is that had the Kennedy assassination happened today, it would not have taken 38 minutes from the time of President Kennedy being declared dead to the time Cronkite broke the news on the air. Actually, it may have. But it would have been reported on services like Twitter much sooner. Had it played out that way, where do you think people would turn the next time there was an event unfolding in realtime?…That said, there is no denying that right now, Twitter, the brand, is the winning channel for this new type of news consumption. It's the Walter Cronkite for realtime information. And when the next major event happens, an increasing number of us will be huddled around our computer screens, watching.
This has been true for media junkies for a while now — I was somewhat floored in Sept to read about Patrick Swayze's death on the NYT.com homepage before seeing it on Twitter — but one imagines it won't be long before the nation gets accustomed to getting its breaking news in 140 characters or less. That said "that's the way it is" would make for a great hashtag.
Have a tip we should know? tips@mediaite.com