People Are Just Not Cutting Trump's Senior Press Rep Any Slack for This Disastrous Interview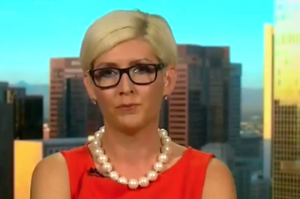 I'm not going to transcribe the following interview for you because it's something you kind of need to see to believe. I am going to tell you just a few pieces of background information instead and after you've watched it, we can reconvene down the page to discuss what you saw. So, first of all, that's Carol Costello doing the interview. The subject on the left is Amy Holmes of The Blaze and there on the right is Healy Baumgardner, the senior press representative for Donald Trump.
Ready, get set, watch:
How many times did Baumgardner say "top line"? How many times did we hear about top leaders "throughout the world"? "Highly respected individuals"? "Feedback"? She appeared to pick one phrase and stick with it for six minutes, except, of course, when she was asking Costello if a question was for her because she didn't catch it.
Holmes really pulled double duty here, jumping in with, "Uh, Carol, I think I can answer that question," after Baumgardner responded to a question about Trump praising Kim Jong Un for killing his family with the same "top line" speech about repairing relationships "throughout the world" not once, but twice.
This interview was excruciating and Costello made that known with her simple, "Okay, then," after another of Baumgardner's Marco Rubio–esque robotic replies. Other people made it known, too. They voiced their horror on Twitter.
We've heard of 'Team of Rivals'. W/ the addition of @healybaum, w/o doubt, Trump's assembling a 'Team of Imbeciles' that will have no rival.

— Bill Madden (@activist360) May 18, 2016
hey @realDonaldTrump @healybaum knows just about as many words. big words. huge words as you do!! hahahaha #CNNinterview

— Steve Galluccio (@stevegalluccio) May 18, 2016
@healybaum Oh wow. Is this your first time on TV ? You looked unprepared & foolish on @CNN.Trump admires Kim Jong Um. They're both dictators

— Annie (@dirtydog2001) May 18, 2016
How ya gonna be on tv, talking about @realDonaldTrump as a rep & don't know what 2 say?! The cat really got @healybaum tongue on @CarolCNN.

— Wyllisa Bennett (@WyllisaBennett) May 18, 2016
@healybaum on @CNN cannot answer one question about #DonaldTrump. Is this what we can expect from #Trump press team? No transparency

— Pablo (@PabloTheDog1) May 18, 2016
Laughing so hard at @healybaum on @CNN. It's like an SNL skit! Where'd you find this Valley Girl @realDonaldTrump ?

— GolemOnTheShelf (@DanielBen_Del) May 18, 2016
@realDonaldTrump proves himself to women by hiring Stepford Wife @healybaum as Senior Press Spokesperson. pic.twitter.com/1w3WvVjSFw

— Michael Lockhart (@mlmlmloc69) May 18, 2016
So, someone asked if Trump's top press rep had ever been on television before and another person said her performance was like that of an SNL skit. Tough day for Baumgardner. She hasn't posted anything on social media since tweeting out a request that her followers watch her on CNN before the interview started, so maybe she is somewhere quietly taking all this feedback to heart.
[image via screengrab]
For more from Lindsey, go to Twitter or Facebook right away! She wants to repair relationships with top leaders and open up some dialog, you know?
Have a tip we should know? tips@mediaite.com