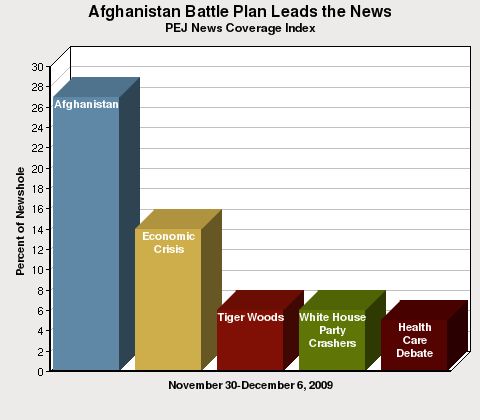 It is perhaps a measure of the media cycles of the blogosphere that I consider the latest study from Pew's Project for Excellence in Journalism on last week's news coverage to be encouraging. According to the study, 27% of the newshole between Nov. 30 and Dec. 6 was devoted to coverage of Afghanistan. Which makes sense since the President's speech took place on the 2nd. Though it is interesting (and a not a little disturbing) to note that it is "the largest amount of attention the media have devoted to the war there since the PEJ began monitoring the news in January 2007." Meanwhile, coverage of the economic crisis accounted for 15%, which actually seems a bit low if only because at the end of the day doesn't everything come back to the economy?
The point of this, however, is that clocking in at six percent each was coverage of the crashers: Salahis and Tiger Woods, respectively. Yes, six percent is a lot of coverage in the grand scheme of the world's news (also, more than health care, though I would make the argument health care has received such saturated news coverage the last four months that maybe we all just wanted a break). What the poll does succeed in proving, however, is that despite the fact one glance at any number of websites (including this one) or television news shows, mainstream or otherwise, might lead you to believe that Afghanistan and/or the economy was struggling to be heard through the cacophony of this week's latest stunt news story, actually they are getting plenty of attention and space. Whether those stories are being read or listened to is another question altogether.
Side note: George Stephanopoulos might want to glance at this graph to get a sense of where his journalistic future lies.
(h/t Michael Calderone)
Have a tip we should know? tips@mediaite.com