Piers Morgan: CNN Needs To Be 'Livelier, More Provocative, More Opinionated'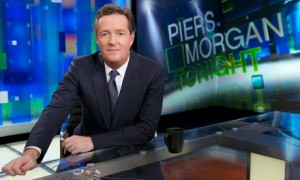 It's no secret that CNN has its share of ratings woes. Some have argued that the problem lies in CNN's seeming unwillingness to engage in actual news reporting, others think the network should become as opinionated as its rivals MSNBC and Fox News. CNN host Piers Morgan made it clear in comments made to The Los Angeles Times that he falls into the latter category, arguing that the network needs to be more comfortable about "being opinionated."
RELATED: CNN Reportedly Considering Talk Shows And Reality Shows To Help Boost Ratings
In contrast to comments made by Sam Feist, the network's D.C. bureau chief, that there is more value in CNN not taking sides in political squabbles, Morgan said that the network should be embracing opinion in order to remain afloat.
"When there's no news for sustained periods of time, CNN tends to deflate as a network… There's a lot of internal debate going on about tone and opinion. I've been given more license to express my opinion. We need to be livelier, more provocative, more opinionated. I know we can be more opinionated without being partisan." Morgan himself has seen such low numbers that this year, greeting the crowd in a convention auditorium, he cracked that it was a bigger crowd than he had seen in a while.
He admitted that it would be "incredibly tricky" to find the right balance between opinion and being partisan, but said such a step is "not rocket science. It's bleeding obvious."
The New York Times reported yesterday that CNN is hoping to get a ratings boost with the help of documentaries from its sister network, HBO, and new reality-type programs starring Morgan Spurlock and Anthony Bourdain.
h/t HuffPo
[Image via]
Have a tip we should know? tips@mediaite.com
Josh Feldman - Senior Editor