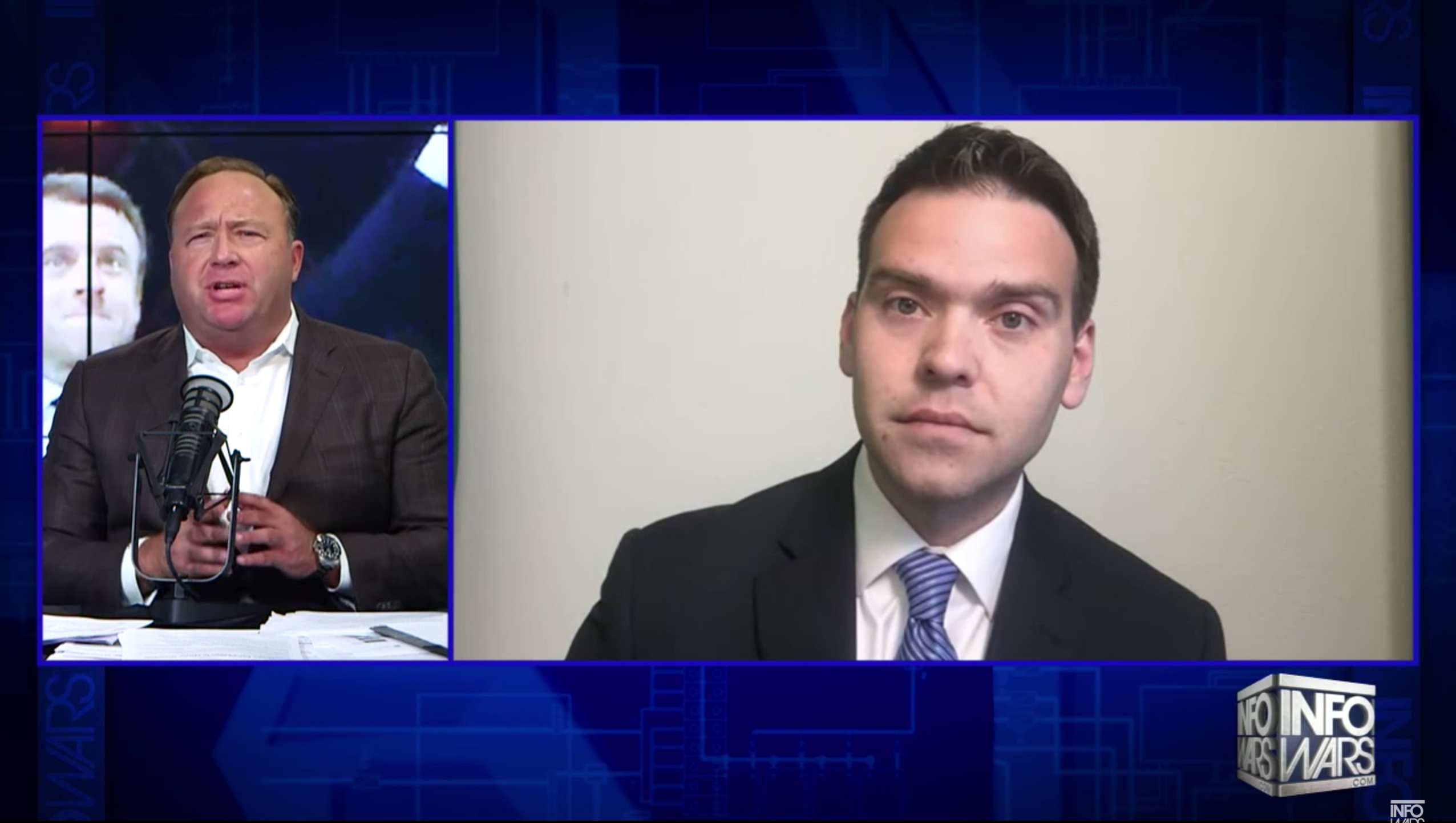 Another Pizzagate conspiracist attended a White House press briefing on Tuesday, two weeks after Mike Cernovich made a controversial appearance in the briefing room.
Jack Posobiec — formerly a volunteer for President Donald Trump's election campaign — attended the briefing and other White House events on Tuesday, causing a stir on social media.
Amazing to be in this room – great moment for @TheRebelTV! pic.twitter.com/RckaW0LW5J

— Jack Posobiec ?? (@JackPosobiec) May 9, 2017
Posobiec is perhaps best known for relentlessly pushing the Pizzagate conspiracy, a bizarre internet theory alleging that associates of Hillary Clinton ran a child sex-trafficking ring out of D.C.'s Comet Ping Pong.
Posobiec, a self-described "citizen journalist", Periscoped a visit to Comet Pizza in November, leading #Pizzagate to trend on Twitter. A Comet Pizza manager called the police after seeing Posobiec filming a children's birthday party at the restaurant, and Posobiec was removed. He later appeared on Infowars to discuss the visit, describing the restaurant as "very shady," with a "really weird vibe" and "weird sort of demonic artwork." Posobiec also recounted "little kids randomly walking around" in the back of Comet Pizza.
The conspiracy Posobiec championed ballooned into an international story when Edgar Maddison Welch, who had read about Pizzagate online, travelled to Comet Pizza and opened fire inside the restaurant with an assault rifle.
After the incident, Posobiec backed away from his insinuations about the pizza restaurant. In comments provided to The Washington Post in December, he said he went to the restaurant without "any preconceived notions." "I thought I could just show it was a regular pizza place," he claimed.
As a pro-Trump activist, Posobiec used incendiary methods to discredit protestors following the president's inauguration. A Buzzfeed report from February showed that Posobiec attempted to smear an anti-Trump protest by joining the crowd with a sign reading "Rape Melania," and organized other similar disruptions. Photos of the sign were widely reported on and condemned.
Posobiec returned to the spotlight in May, after he was one of the first on social media to spread emails hacked from French presidential candidate Emmanuel Macron's campaign. After spotting the trove of hacked emails on 4chan, Posobiec tweeted out a link to his more than 100,000 followers, with the hashtag #MacronLeaks — a move that even earned him a generous write up in The New Yorker.
Before his visit to the White House on Tuesday, Posobiec appeared on Alex Jones' Infowars — another enthusiastic proponent of the Pizzagate conspiracy — to give his thoughts on the newly elected French president.
"Something very, very fishy is going on," Posobiec said, referring to Macron's marriage to his wife, who was once his high school teacher. Posobiec alleged that Macron had been groomed from a young age by his wife to act as a "puppet" for the Rothschild family. In the video — behold, in all its glory, below — Posobiec claims the hacked emails reveal Macron is being mind-controlled, and kept on a steady dose of ecstasy and crystal meth in order to do the bidding of a cabal of globalist elites:
Jesus christ, the #MacronLeaks guy is on Infowars saying Macron's wife may have seduced him so that govt could "mind control" him with drugs pic.twitter.com/LE6XycSTDU

— Mack Lamoureux (@MackLamoureux) May 9, 2017
Posobiec's comments on Infowars show he has little interest in abandoning the reckless conspiracy mongering that has earned him a large social media following. His appearance at the White House shows there may be little consequence for doing so.
[image via screengrab]
—
Follow Aidan McLaughlin (@aidnmclaughlin) on Twitter
Have a tip we should know? tips@mediaite.com
Aidan McLaughlin - Editor in Chief